Tips To Design a Modular Kitchen
10 Feb 2011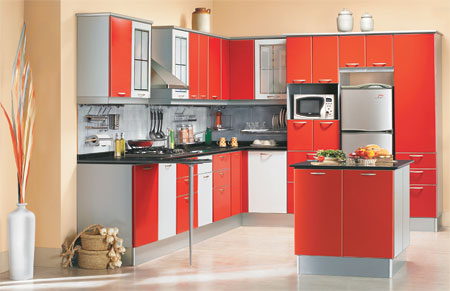 We can help you with some tips to design a modular kitchen.
A modular kitchen design is a type of kitchen furniture style which possesses various cabinet units that are designed for different functions. Here are some of the best tips to design a modular kitchen. When you decide to remodel your kitchen you will find that the market has an array of materials and colors available to suit your taste.
First of all you should properly plan for your kitchen design before getting started.  Measure the size of your kitchen. Modular kitchen designs are available in various sizes and shape. So you have to carefully choose what all will fit into your kitchen and if the new fixtures go well with the existing ones.
You must also set your budget beforehand. Choose the materials of the furniture accordingly. For instance, hardwood is the most expensive of all the material while glass and stone are cheaper. But you must consider the durability of the material too so that your kitchen design lasts for a very long time.
When it comes to  the design, you must also consider the surrounding furniture along with the walls and flooring, so that you end up choosing the best colors for your brand new modular pieces. They will have to match well with the already existing furniture else it will look odd.
Speaking of the construction, the height as well as the depth of the cabinets must be taken into account. Proper measuring should be done and the cabinets should be such that they are not only comfortable but easy to reach too.
Last but not the least, proper lighting is also important, so that you can clearly see what you are doing in the kitchen. 
image credits : sliceindia.com
Tips To Design A Modular Kitchen