Tips To Design A Farmhouse Kitchen
10 Feb 2011
Farmhouse kitchen ideas
It's the dream of every urbanite to have a farmhouse kitchen design in their country home. A farmhouse kitchen design is rather free and there are not too many strict rules. But adhering to the guidelines and following conventions can play a role in rendering your kitchen as authentic as they come.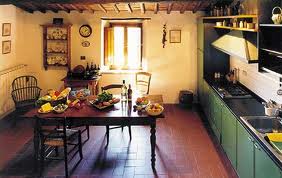 Let's start with the colors. Don't stick to neutral colors that don't represent much as is the case in an urban kitchen. Try and mimic the colors of spices. We are talking red, yellow and brown here. Try a nice wall paper on one of the walls. Choose the one close to the stove. That will protect your wall from the cooking fumes as well.
It's a farmhouse kitchen. You definitely want to at least separate your trash. Have a compost pit outside just below a kitchen window. You can directly throw your vegetable waste and egg shells into the compost pit. If you have a grill extending from the window, consider having a few potted herbs on it.
Floors: You cant really imagine a farmhouse kitchen having anything but wooden floors. This is fine and is really the obvious choice as far as looks are concerned, but this not the only option as their cleaning and maintenance is not the easiest. Tiles of contrasting colors would do well too with some additional rugs laid out, hand braided or hooked rustic looking rugs would look the best.
For the furniture stick to the basics. A farmhouse table of course, but if that's too expensive try to get unfinished tables from the local carpenter and paint them yourself in a color that complements the walls. 
Image Credit: lolmo.com
Tips To Design A Farmhouse Kitchen