Top 5 Retro Kitchen Ideas
10 Feb 2011
Retro kitchen ideas are  not difficult to think up. If you have seen a few retro kitchen ideas and designs you can easily come up with your own for the new "old" look of your kitchen. Here are a few pointers that can stimulate your retro ideas.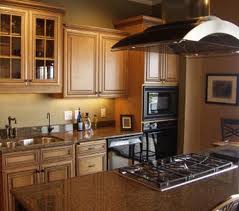 Table cloth:
Use a checkered table cloth. Ochre and white checkers can give off a nice vintage vibe. Bold checkers are preferable. Depending on how retro you are going you can also choose a table cloth with elaborate floral embroidery in the middle.
Cabinets and storage:
Paint your cabinets a nice loud color such as burnt orange or burgundy. Use old fashioned storage tricks. Hang a woven basket in the corner and use it to store vegetables that do not need to go into the fridge such as potatoes, onions and a braid of garlic.
Jars:
Pick out jars that you reuse. Browse the web for old newspaper print ads and print them on sticker paper. Paste these on the jars and display them in the wall cabinets or on shelves. Nowadays china is used only in crockery. Ceramic crock pots and cookie jars add a nice retro feel to the kitchen. Put them on the fridge or line them on the shelves.
Furniture:
Old fashioned wicker chairs for the dining corner are a good idea. The cushions on the chairs should match the table cloth. If you are using the island counter as a dining space also you have the option of using barstools for seating.
Antique pieces:
If you can afford it buy a nice antique wall clock. Antique vases are good too but you do not want your children running around them. A clock is safe up on the wall. If you can't afford real antique pieces browse the local flea market, you will be surprised at what you find. 
Image Credit: kitchenbacksplashes.blogspot.com
Top 5 Retro Kitchen Ideas