10 Essential Industrial Kitchen Appliances
10 Feb 2011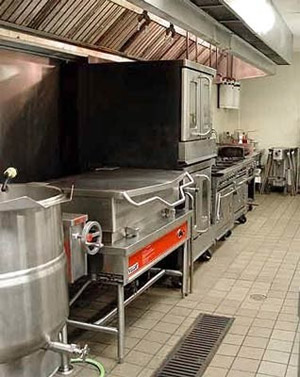 Industrial kitchen appliances are normally used in big kitchens such as in hospitals. The quantity of food cooked is huge in these kitchens. Since industrial kitchen appliances cater to quantity, they are preferred.  Just like the normal kitchen, industrial kitchen has the same stuff with a few accessories more. But the difference is that the domestic appliances are just enough for a small number, but an industrial kitchen appliance caters to a large number.
Freezers or refrigerators
An industrial kitchen requires huge freezers to store food. Sometime, even walk in freezers are required to keep food. The quantity cooked in large, therefore huge freezers or refrigerators are essential to store ingredients as well as food. A cold beverage making equipment is required for soft drinks.
Stoves                                                                   
A stove is an industrial kitchen appliance used for cooking. Usually high-end stoves are used in industrial kitchen appliances.
Coffee & Espresso Makers
These appliances help to cater to the huge demand for coffee. Coffee makers are used to brew coffee without having to actually boil water in a separate container.
Dishwashers
The dishwashers must be huge and capable of withstanding the huge volumes of utensils and cutlery cleaned each day.
Fryers
Fryers are required to make deep fried snacks. They must be energy efficient. Use of automated frying systems as a part of industrial kitchen appliance is highly beneficial.
Grills, Broilers & Griddles
These form an integral part of industrial kitchen appliances. They are used to cook food quickly such as pieces of meat.
Storage
Food has to be stored in appropriate containers. Food boxes are available. Also, steam tables are required to hold pans and sliced onions, tomatoes and cheese.
Professional cutlery, utensils
These include knives that are required for slicing and carving and blenders. Kitchen utensils have to be bought depending on the use. The metal and shapes of the utensils are important factors while choosing them as industrial kitchen appliance.
Ovens, Ranges & Toasters
 These are primarily used to bake and make pizzas. Depending on the use choose the various models of microwave ovens. Microwave ovens used as an industrial kitchen appliance have a comprehensive range of cooking programs. There are various other ovens that helping in baking and roasting.
Sinks & Faucets
Huge stainless steel sinks are required. Depending on the need these sinks have to be chosen. Heavy duty faucets are also part of industrial kitchen appliances. There are a few models that have the facility of dispensing liquid soap.
Slicers & Dicers
 These are usually used in food preparation. One such use is to cut vegetables and fruits for salads.
Industrial kitchen appliances require huge space and investment. Depending on the space and the budget, one can invest in these essential industrial kitchen appliances.
Image credits: www.caritasblog.com, www.allaboutkitchenappliances.com
10 Essential Industrial Kitchen Appliances