Tips To Design A Condo Kitchen
10 Feb 2011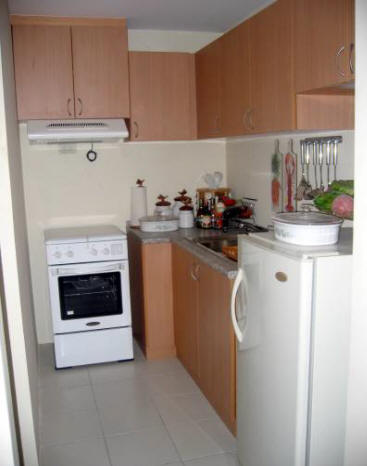 The condo kitchen ideas require some out of the way innovations and ingenuous presence of mind. But I must tell you that it will never sap you out your energy to keep flushing your mind for condo kitchen ideas. Let me apprise you about the way condo kitchen look. Condo kitchen designs are smaller than the general kitchen designs you can think of and hence, special interiors are required to distinguish condo kitchen from the normal looking kitchen.
The special attention given while designing a condo kitchen is to the cabinets. Yes, one must wary about the choice of color for kitchen cabinets and make sure that the color goes well with rest of the ambiance of kitchen.
Another important feature to be kept in mind is the use of bright and dark color for your kitchen. Brighter colors make your kitchen appear larger and darker color usage will definitely shrink down your kitchen to seemingly smaller space.
One can illuminate the kitchen space by using more artificial lights in the kitchen. The judicious use of skylight and other under crab lighting can enhance the brightness of your condo kitchen. You can put up some colorful flash lights into use.
To increase the availability of space, one can make use of tall pantry cabinets which stores all sorts of canned stuffs and snack items. Making the kitchen more commodious and roomy is the best part of this renovation.
The overall design of condo kitchen must be in balanced symmetry. The symmetrical kitchen gives extra sense of well being and comfort. Also the floor tiles of kitchen can be replaced with contemporary decorative styles. One can also introduce Lyptus wood or Maple flooring which are the demand of this decade.
Bringing these lovely ideas in renovation and design of a condo kitchen is a way to modern kitchen. You will feel the deep sense of charm and exuberance overwhelmed with excitement whenever you step into your condo kitchen!!!
Image credit: natural-interior-design-blogspot.com
Tips To Design A Condo Kitchen