How To Design An Open Kitchen

10 Feb 2011
Getting open kitchen ideas are quick and easy. You need not do a whole lot of research and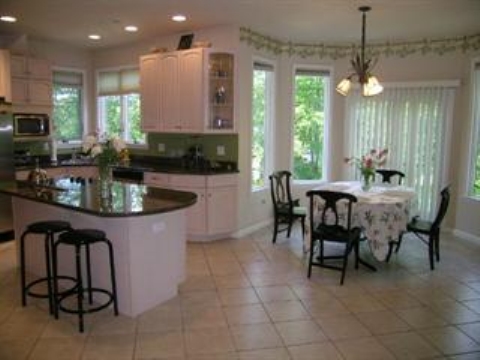 consultation to create open kitchen designs. The initial idea should ideally be yours and then professional help is required to give a structure to it. As the name suggests, an open kitchen indicates an open area in the house where all the kitchen work happens. Thus, a careful planning is all it takes to create amazing open kitchen designs.
It is very important to locate the right place in the house for an open kitchen. Make it in such a place where there is plenty of light and air. Also, it should be adjacent to the dining area or you ca plan and have the dining area inside your kitchen.
The open kitchen should ideally have enough space for work tops as well as for an island. The island is to be designed in a simple manner with a sink and place to chop vegetables or do other preparations for cooking. This sink should be small enough as it is meant only for washing the cooking ingredients.
The island should not be at a distance from the hob. You can make the preparation for cooking on the island and then quickly transfer them to the hob. Place another sink close to the hob where you can do all the dishes and the cleaning up.
As the open kitchen will be visible to everyone pay careful attention to store up the cutlery, crockery and groceries nicely. You can have open as well as close shelves for storage but they need to be cleaned regularly.
If possible have huge windows in your open kitchen. They make your kitchen look spacious
and you can drape them with nice floral curtains.
Pay special attention to the dining area inside the kitchen. Have a table suitable enough for your kitchen and place nice cosy chairs around it. You can enjoy a nice warm cup of tea when you are tired from your kitchen work in this area.
An open kitchen gives you many ideas to decorate it. Place flowers and decorations and make it special.
Image credit: tkmayerhomes.com, housemagz.com, sunset.com 
How To Design An Open Kitchen