10 Essential Food Service Equipment
9 Feb 2011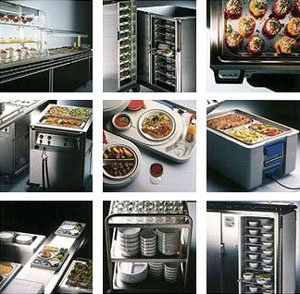 If you are planning to open a food business on commercial scale then you can take cue from 10 essential food service equipments announced in this blog. A food business or any other commercial concern related to food can only survive the competition when it is supported by some kind of sophisticated food service equipment or sets of such equipments. Here are 10 essential foodservice equipments which may aid you in long run.

 
Bakeware: The bakeware is essential for running a regular and commercial kitchen. In regular kitchen we may end up going for a type of oven , but for a commercial kitchen you need to choose from cake pans, cooling racks, loaf and bread pans, pastry tools, muffin pans, molds and plaques, rolling pins, etc.
 
Dishware: This is potential food service equipment necessary for running a commercial kitchen.  While selecting this sort of foodservice equipment you can choose from different types of bowls, cups, plates, mugs and chargers.  

 
Drinkware: It will be an understatement to say that drinkware is essential food service equipment in any kitchen, and it can't be different for a commercial kitchen too. While selecting drinkware you can choose from bar tumblers, stemware, water bottles, beverage dispensers, cocktails, glasses, mugs, commuter cups and mugs, etc.

 
BarWare: A good barware is always an asset to the organization. We would say this type of food equipment is the soul of the restaurant which serves drinks.  While going for this types of equipment you should choose from different types of bar and wine towels, appetizer plates, bottle openers, coasters, flasks, liquor decanters, shakers, strainers, etc.

 
Storage Ware: The utility of these equipments may vary from restaurant to restaurant but the purpose remains the same. While choosing an apt storage ware for the kitchen you can go for different kinds of butter keepers, bread boxes, lunch containers, fruit baskets, spice jars, etc.

 
Grill Ware: While going for the grillware you can choose from different types of grills like infrared grill, heat plates, straight pipe burner, salamanders, etc.

 
Frying equipments: Frying equipments are food service equipments necessary for the functioning of the restaurant and normal household. While purchasing this set of equipment, you can go for frying pans, single fryer, snacks fryer, namkeen fryer, frying pan sigree, etc.

 
Cutting Boards: While choosing cutting boards you can go for chopping blocks, carts and islands, meat and carving blocks. Also, while going for this set of foodservice equipment, you have wide range of choices to make from bamboo, cherry, glass, maple type of materials. 

 
Glass Ware:  Glass ware is essential for the working of a bar.  You can choose from different kinds of beer glasses, margarita glasses, martini glasses, tumblers, shot and shooters, and brandy and cognac glasses.

 
Trolleys: While buying food service equipment you can go for Bain Marie, Food Counter, and Hot Food Trolleys. 
Image Courtesy: restaurantappliances.blog.com
10 Essential Food Service Equipment