Tips To Buy Commercial Cooking Pots
9 Feb 2011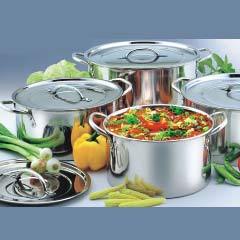 Commercial cooking pots are quite different from the cooking pots used at home. Commercial cooking pots are avialable in variety of sizes and prices. These pots need to withstand high temperature and also the daily washing in dishwashers. Therefore, while buying commercial cooking pots be careful about the durability and the material from which these pots are made.
Here are a few tips for buying commercial cooking pots.
Since commercial cooking pots differ from home pots, survey the market or look at various websites that offer commercial cooking pots. Study the advantages to buy cooking pots for commercial use.
Next, go personally to the chosen store, and check the latest varieties. Look for the correct commercial pots for the products you plan to cook. Choose sauté pots, braziers, pasta pot, stockpots and double boilers. These pots have to withstand the hot temperature of ovens and stoves.
Next decide whether you want to go in for stainless steel commercial cooking pots or aluminum pots. Choose them accordingly depending on your use. While sauce pots are used to cook sauce and soups, braziers are used for cooking meat on a stove top. So, cooking pots for commercial use have to be bought depending on their usage. 
Maintain a budget to buy commercial cooking pots. Do not go over and above your budget.
Check for sales on cooking pots for commercial use. These sales offer discounted cooking pots.
If there are no sales, check for stores that offer commercial cooking pots at affordable prices. Always start with basic necessities. And then slowly expand into buying bigger cooking pots for commercial use. So start buying with cooking spoons, cooking forks, turners, special tools and a few necessary pots.
Get information on the prevalent prices. Compare the prices of these big cooking pots. This will give an idea about stores that offer cooking pots at a competitive price.
Always invest in some good pots that enhance the beauty of the kitchen.
Make a wise investment. Do not go overboard buy pots that may not be used immediately. Buy commercial cooking pots that required to be used immediately.
So, with these tips in hand make smart deals while buying some cool commercial cooking pots.
Image credits: imghost.indiamart.com
Tips To Buy Commercial Cooking Pots