Tips To Buy Second Hand Catering Cookers
9 Feb 2011
Second hand catering cookers can save you considerable money while equipping your new restaurant. But also be aware that this decision to buy second hand catering cookers comes at a price as you also need to create an impression and carve out a niche in the market with the new restaurant. And you do not want the used cooker churning out less than satisfactory food. To buy second hand catering cookers one needs to look into some basic facts about the offer before making the purchase.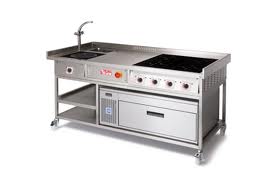 First of all try and ask the seller upfront why they want to dispose of the cooker. There's nothing wrong in finding out information that will aid you in your decision making. If the reason is that they are shutting down or that its capacity is too small for their needs then the bet is safe. Else you do want to have a closer inspection of the cooker. Ask to try it out and make a simple recipe using the cooker to see the results.
Ask the seller frankly if there are any safety hazards. Tell them that you would like to get it repaired and use it anyway. A seller will more willingly give you the information if he feels more or less sure that you will eventually buy the cooker off of them.
Finally, it would be better if you are buying a used cooker only as an add-on to a primary one that is new. Use the new one to its full capacity before loading the second hand one.
Image Courtesy: prlog.org
Tips To Buy Second Hand Catering Cookers