Top 10 Commercial Kitchen Equipment Suppliers
9 Feb 2011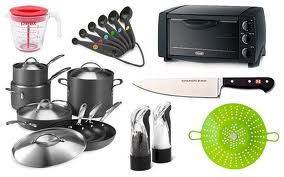 One might think commercial kitchen equipment suppliers cannot operate online as customers need to see and test and negotiate deals before making such big investments. Each commercial kitchen equipment supplier has a prominent internet presence and we have the following giants topping the charts among commercial kitchen equipment suppliers today.
10. Lloyd pans: http://www.lloydpans.com/
As the name suggests, they specialize in pans. Their three main product categories are pizzaware, cookware and bakeware. Their two unique selling points are eco friendly coatings and custom solutions.
9. Cooking.com: http://www.cooking.com
They have kitchen equipment for home use primarily but a small link that says "commercial kitchen" on the left navigation panel reveals quite a wide range of restaurant supplies.
8. Food equipment international, Inc.: http://www.food-equipment.com/
Their presence is mostly in the USA and Canada. A very stripped-to-essentials website provides a crude preview of details. Don't judge a book by its cover. Use the website to get in touch  with their customer service and get some great deals.
7. KitchenAid: http://www.kitchenaid.com/
A common household name for all cooking equipment. Specialising in commercial kitchen equipment is not what they do. However they do have some real industry strength stand mixers and a large appliance section that are quite good.
6. ACityDiscount.com:  http://www.acitydiscount.com/
A well populated collection of mid-range equipment for small to medium restaurants. They also have listings of used equipments and customer service that speaks Spanish!
5. CKitchen.com: http://www.ckitchen.com/
This website is sort of the amazon.com of commercial kitchen equipment. They list and deal in restaurant supplies of various brands.
4. Galasource: http://www.galasource.com/
One of the mid to high range dealer of restaurant supplies. They have a rather wide range of restaurant furniture.
3. Serv-U: http://www.servu-online.com/
An easy to navigate website to precisely locate the products you need. The navigation tabs are quite specifically labeled instead of wide ad-hoc groups such as "refrigeration".
2. Manitowoc from the Garland group:  http://www.garland-group.com/
A high end supplier of commercial kitchen equipments. They have substantial documentation available for download that helps you make an informed choice. They deal in replacement parts as well.
1. Hobart, Traulsen & Baxter: www.hobartcorp.com
Top of the range cutting edge commercial kitchen equipments are synonymous with this corporation. They have three divisions with Traulsen specializing in refrigeration systems and Baxter in baking equipment.
Image Courtesy: Bestrecipesonline.net
Top 10 Commercial Kitchen Equipment Suppliers