10 Essential Bar Supplies

9 Feb 2011
If you have a home bar or intend to set up one of your own  and have a framework ready, here is a look up of the essential bar supplies, which will outline the essence of a 'spirited' bar.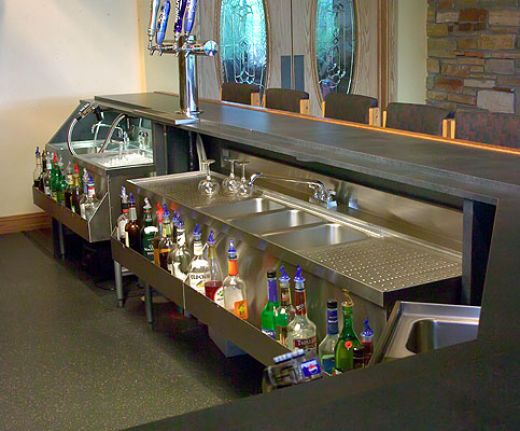 Apart from the regulars in the way of equipments, bar tools  and the branded labels, your bar supply should have its basics well defined. Some of these may not sound integral to the bar but they are indispensables nevertheless.

So here goes the list of bar supplies in the way of:

•    Snacks: Much as a bar is about shaking and stirring and mixing drinks the crunch and the munch factor complement the bartending and the custom of drinking. The sip from the glass and a pick from the plate alternate like tango dance partners.
•    Garnishes: From lemon zest to orange and pineapple wedges, green olive or pearl onions, your guests are bound to anticipate that topping touch of a garnish to the drink you serve them.  Pineapple wedges for tropical drinks or celery sticks for bloody Marys, there is an "umbrella" to cover all types of drinks. We are not talking about paper umbrellas alone! So garnishes are an essential bar supply, which you always should keep in stock in your refrigerator.
•    Mixers: What you mix that whiskey with or what could be a suitable base liquid for your cocktail? Mixers pitch in to make your drink complete. With juices forming one set(tomato, cranberry, and orange) and the sodas with soda gun being the most popular followed by lemon-lime soda, ginger ale, cola, tonic water and plain soda water, make up the second half of mixers. And of course there is the Rose's lime juice, simple syrup and grenadine with Angostura bitters being a close-runner up to forming a part of essential bar supplies.
•    The brown spirit: Whiskey, bourbon and scotch are popular for their unique and subtle flavor . They taste good on their own or can be had mixed with soda or water
•    The clear Spirit: Gin, rum, Vodka and tequila belong to the category of  the clear spirit as they form the base for many a cocktail or a mocktail. Vodka has become a cocktail's "old reliable" partner, with gin paired with other spirits giving a new high of variations; tequila, a shot in the arm for the mélange of shots which go into the making followed by Rum basking under the tropical sun. The clear spirits are definitely essential bar supplies.
•    Tools: Apart from the Soda guns, muddlers, stirring spoons, speed pourers, salt and sugar rimmers and rubber bar mats, there are indispensable bar supplies such as the cocktail shaker and cobbler shaker, to shake and stir up a good drink for your guest to gush it down. Last but not the least a book of cocktail recipes will always help you to serve your best.
•    Liqueurs:  The basic coffee and orange liqueurs will always prove its utility, to make a variety of cocktails. Other common liqueurs include amaretto, Drambuie and cinnamon, peach and peppermint schnapps. These apart, the Cointreau or triple sec will always render the flavor of the exotic and are therefore essential bar supplies.
•    Beer: The largesse factor of any bar is symbolized by the presence of a beer. In fact, a bar without a beer doesn't bear the right spirit to serve its guests. Be it home bars or the professional bars there are different varieties of kegs available with the dark and the light beers fitting the winter and the summer season respectively.
•    Wine: The wine is the winning card for any gathering and your guests will be enthralled to have a variety of wine options for a party. So, keep the red and white wine always handy. Apart from these, dry champagne is a must have bar supply.
•    Glassware: The style statement to your bar cannot be better delivered than through your glassware. There are different shapes, sizes and of course make for each type of drink, but the basic glassware for mixing, measuring, shaking are essential bar supplies.
With the above tips on essential bar supplies, enliven your bar as if the mind and spirit are united in its substance.

Photo Courtesy:  hubpages.com
10 Essential Bar Supplies