How To Maintain Cooking Utensils

8 Feb 2011
Cooking utensils are an integral part of any kitchen and are used on a daily basis hence, it becomes imperative to look after their maintenance. Cooking utensils last long and work well if they are carefully maintained and taken proper care of.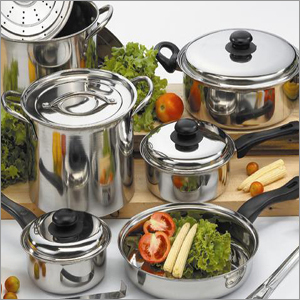 To maintain cooking utensils it does not require any special skills, it's very simple and just requires paying attention to your cooking utensils while working in the kitchen.
By following these simple tips it will become very easy for you to maintain your cooking utensils.
Never put an empty pan on high flame for long as it will burn the pan and damage it.
Always take care to immediately remove all the stains that might have been made by spices, on the cooking utensils. If you leave it for later, it gets quite difficult to clean them off.
To wash your cooking utensil, always use nylon scrub pad and do not use steelwool, as it willleave scratches on your utensils.
While washing, make sure that you wash the utensils properly and wipe them dry immediately otherwise, water stains can easily form on the utensils.
To maintain cooking utensils in good order, use a good quality liquid or bar soap. Please do not use detergent soaps for cleaning the utensils.
Take extra care while washing copper coated cooking utensils as they are more prone to tarnishing. Refrain from using harsh scrub pads so as to harm the coating on the utensils and exposing it to tarnishing.
While washing cooking utensils, if it gets difficult to remove the burnt food from its surface, fill some hot water in the pot and leave for some time. Then using a nylon scrub pad, clean the utensil.
If you use wooden cookware in your kitchen, don't wash them with hot water as it will harm its surface.
Do not use any sharp object like knife or a sharp edged spatula to remove the bits of food clinging to the surface of the utensil if you want to maintain cooking utensils in top order.
Care should also be taken with the non-stick cooking utensils that you use in your kitchen.
Do not put an empty non-stick pan on high heat as it will affect its coating.
Also never put cold water on your hot non-stick cooking utensils as it will lead in chipping off the coating.
Avoiding the use of sharp objects like spatula or knife for both cooking and removing food also implies in this case, to maintain cooking utensils in good condition.
If using anodized steel cooking utensils, care for them the same way as wooden or non-stick cookware. Take the same precautions like avoiding cooking on high flame, abstaining from using sharp spatulas, and other sharp edged objects to maintain cooking utensils.
To clean white deposits from the stainless steel cookware, boil a mix of water and alcohol and add salt when it starts boiling to remove the deposits.
To maintain glass cookware also, follow closely the tips given for non-stick cookware.
Follow these tips closely to maintain cooking utensils in your kitchen in good order.
Image credits: varunindustries.tradeindia.com
How To Maintain Cooking Utensils