10 Essential Kitchen Supplies For A Commercial Kitchen
8 Feb 2011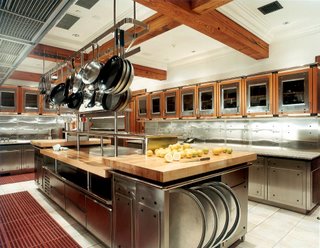 I will tell you about 10 essential kitchen supplies for a commercial kitchen.  I know it becomes seedy to choose from various kitchen appliances, when you are going to take charge of a kitchen at restaurant or hospital.   In that scenario you have to play safe with the menu, kitchen space and your budget.  Here is the list of some essential kitchen supplies for a commercial kitchen:
Ice Machines: They are one of the essential equipments in any commercial kitchen because ice is an important ingredient. You can choose from various types of ice cube machines, ice bins, flake and nugget ice machines, ice cubers, and ice dispensers.

 
Cooking equipments: I thought of adding the cooking equipments into the list of essential kitchen supplies because I am damn sure that no kitchen can survive without these tools.  While considering this category of kitchen supplies you can decide on types of ovens, cutters, fryers, disposers, dishwaters, food processors, rice cookers, microwave oven, griddles, grinders, meat saws, toasters, utensil washers, etc.

 
Food Machines:  These are essential tools at any restaurant or hospital kitchen.  You can choose from various types of grinders, mixers, slicers, tenderizers or vacuum packagers.

 
Cofee and Cold Beverage Equipments: Without my saying anything you might have got an idea about what type of kitchen supplies I am talking about and their importance in any commercial kitchen.  You can choose from various types of beverage dispensers, drink mixers, coffee brewers, cappuchino machines, tea brewers, frozen drink machines, and water boilers.

 
Refrigerators and Freezers:  I feel refrigerators and freezers are integral equipments of any regular or commercial cooking places. You can choose from reach-in-refrigerators, reach-in-freezers, blast chillers, roll-in refrigerators, convertible refrigerators and freezers, undercounter refrigerators, and undercounter freezers.

 
Sinks:  The kitchen sinks are essential for any regular and commercial kitchen.  While zeroing on this type of kitchen supplies you can choose from sink heaters, one- two-three-four compartment sinks, hand sinks, mop sinks, sink cabinets and sink units.

 
Stands and Tables: This type of kitchen supplies help to organize the kitchen.  You can choose from different types of countertops, cash register stands, beverage counters, equipment stands, dishtables, hostess stations, tables and work tables.

 
Water Filters:  The filtration systems are indispensible elements of any kitchen. Choose from drinking water filtration systems, coffee filtration systems, ice filtration systems, reverse osmosis systems and water softener systems.

 
Warewash:  I feel this is an important segmentation of kitchen supplies in any commercial kitchen. You can zero on different types of booster heaters, dishwashers, disposers, utensil washers etc.

 
Storage and Transport Equipments: This category of kitchen supplies allow you to choose from different types of cabinets, desks, dish carts, coat racks and cart covers.


I hope that this blog of mine aids you in deciding upon the essential kitchen tools for your commercial cooking place. 
Image Courtesy: comkks.com
10 Essential Kitchen Supplies For A Commercial Kitchen