10 Essential Food Equipments For A Restaurant
8 Feb 2011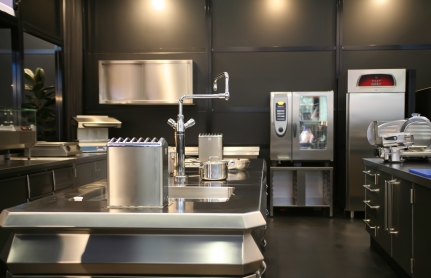 This blog is about 10 essential food equipments for a restaurant.  We know that securing food equipment for a restaurant we tend to look for factors such as budget, space, and it's utility.   Here we hope that you won't have second thoughts while selecting these restaurant supplies.
Cooking Utensils: We all know that these are indispensible range of tools required in any regular or restaurant kitchen. While selecting a range of cooking utensils you can choose from various types of knives, forks, spoons and cutting boards.

 
Blender: It is an important food equipment in any kitchen.  It can help you in whipping eggs, creams, sauces and pureeing vegetables.  For a restaurant supply you can choose from various types of blenders depending upon the requirement.  Also, you can choose from glass, plastic, steel type of blenders.

 
Toaster Oven: Toaster is an essential food equipment in any restaurant kitchen.  These ovens require less space and less energy than the conventional ovens.  Nowadays many of these ovens are equipped with broiling facilities which make them a healthy substitute to regular ovens.

 
Skillet: No need to say that it is essential food equipment in any kitchen. Along with it you can also choose varying sizes of frying pans and pots.

 
Juicer: Juicer is an integral food equipment in any regular or restaurant kitchen. While preparing a list for restaurant supplies don't forget to purchase slicer and peelers along with a juicer.  You can choose from juicers of varying sizes.  The juicers also come in different categories such as dehydrator, smoothie mixer, sprouter, and rebounder. Make wise choices and go for the useful tools.

 
Food Warmer:  It is a sort of equipment which helps to maintain the integrity and warmness of food.  The food warmer ensures that food is served at the right temperature during a buffet, banquet or a party.

 
Food Processor: This food equipment deserves a special mention in the list of the essential restaurant supplies.  They are mostly used for slicing chopping vegetables, pureeing, shredding, grinding items, mixing and kneading dough's.  In many ways they are similar to any conventional blender.

 
Bread Maker: We don't think this food equipment requires any special introduction because the name says it all. This equipment is used for baking bread. This equipment takes few hours to prepare a loaf of bread.

 
Combi Steamer: This particular type of food equipment is a cross between steam cooker and conventional steamer. This type of equipment is mostly used for blanching, steaming, roasting, grilling or poaching foods.

 

Grills: This is an essential food equipment in the restaurants serving barbecues or Asian kababs. While preparing the list of essential restaurant supplies the owners of these restaurants should choose between conventional and new age grills. The new age grills are easy to use and easier to store.
This blog will help you in deciding 10 essential food equipments needed for a restaurant. 
Image Courtesy: a1-restaurant-supply.com
10 Essential Food Equipments For A Restaurant