10 Essential Kitchen Accessories

8 Feb 2011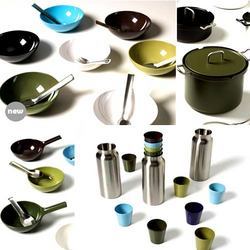 Kitchen is the place where we spend a lot of time during a day. Hence, having proper kitchen accessories is a must to ensure that the time spent is worth. Kitchen accessories are countless, but there will definitely be a few accessories for kitchen which can be 'designated' as the essential kitchen accessories. The essential set of kitchen accessories varies with personal style of cooking. The kitchen accessories I have mentioned below form the basic essential accessories for kitchen in any home.
Let us see what the 10 essential kitchen accessories are. [In my view, of course!]
1. Knives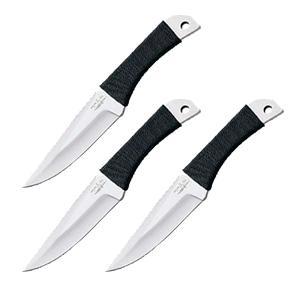 Knives, in various forms, top my list of essential kitchen accessories. The major reason of choosing this as one of kitchen accessories is that knives are used for chopping, cutting and dicing vegetables as well as mincing meat and other non-vegetarian foods. You can use a variety of knives – a paring knife, a utility knife, a mincing one and like that as kitchen accessories.
2. Colored Chopping Boards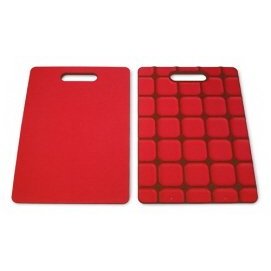 If you are comfortable using the same chopping board for vegetarian and non-vegetarian food items, then you can choose one to be part of kitchen accessories. Otherwise, choose multiple one, each in a different color, so that these can be used separately for cutting vegetables, meat, fish and fruits.
3. Oil Canisters
Oil canisters are vital kitchen accessories if you are using more than one type of oil. Even though you may stick on to using olive oil alone, there may be certain families who use two or three different oils for different cooking purposes. In such cases, you can use these accessories for kitchen, which are available in various sizes, shapes and colors. It is preferable to use multi-colored ones so that distinguishing is an easier process.
4. Woks
Woks are becoming vital kitchen accessories in the West now. These woks can be used for easy frying and for experimental purposes. But remember to avoid using these kitchen accessories for shallow frying.
5. Saucepans
Saucepans are essential kitchen accessories as they are the utensils that help in the even spread of heat while cooking. Go in for a stylish one or a simple one according to your kitchen requirement.
6. Blender
The next one among the accessories for kitchen is the blender. You often use a blender to prepare juices, grind something for your dish, pureeing for your soups and for many other purposes. Choose a blender with a minimum motor power of 750 Watts and with essentially large jars that can hold at least 2 glasses of juice.
7. Heat Resistant Spatulas
Avoid using spatulas made using stainless steel as your kitchen accessories. Instead, you can choose from the various wooden spatulas available in the market. There are spatulas made using other heat resistant materials. Choose 3 or 4 spatulas, each of different size and shape to fulfill your needs.
8. Measuring Cup
Always have a measuring cup as one of the accessories for kitchen. These kitchen accessories will come handy while baking a cake or even while preparing some other sweets or dishes.
9. Kitchen Timer
Kitchen timer is one of the kitchen accessories that most of us forget, or even neglect. A kitchen timer will help you to bake a cake without burning it. Even though microwave ovens and OTGs come with a timer, this will act handy in many cases. Let us say you have to cook meat for some 15 minutes and you have some other work. So, you can take the help of this kitchen accessories and set the alarm so that it reminds you that the meat is cooked completely. You may also opt for dual timers, which are available now.
10. Bins
Last, but not the least, the kitchen accessories that should be part of any kitchen are the waste bins. These accessories for kitchen are essential to keep you kitchen tidy and clean.
Even though this is not a comprehensive list of kitchen accessories, I feel one should definitely consider the above mentioned accessories for kitchen as the fundamental kitchen accessories.
Image Credit
10 Essential Kitchen Accessories