How To Use Navajo Cooking Tools In Your Kitchen
7 Feb 2011
To bring a change in your daily cooking routine, you may learn – how to use Navajo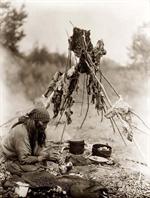 cooking tools in your kitchen. The Navajo cooking tools are being used by the Navajo American Indian tribe from ancient time. These cooking tools are handcrafted with clay or stones and designed scientifically to cook almost everything. While cooking with Navajo cooking tools, you will certainly enjoy the most authentic taste of Native American cuisine.
The Navajo tribe is most renowned for their pottery and basketry works. Pots are mainly used for cooking and serving food, whereas the baskets are used for storing uncooked foods. They also use stone to develop Navajo cooking tools for grinding, scraping or cutting the food items. Here I am describing some of the major Navajo cooking tools for your kitchen.
·        Navajo Cooking Pots – The cooking pot is most important item for the kitchen. While cooking with Navajo cooking tools, you should have Navajo cooking pot or asa pot. You can get these traditional asa pots in variety of sizes. With a round shaped bottom these pots have very strong structure. Particularly, if you are planning to cook an authentic Navajo cuisine, you must have this pot. However, since this is made of clay, be extra cautious while handling this.
·        Navajo Celts – The Navajo celts are also common and essential type of Navajo cooking tools, without which you cannot cook. The celts are shaped like arrow heads and mostly used for scraping off. This can also be used to stir the ingredients in the asa pot while cooking. The celts are made with stone and they have different types of sizes, sometimes with attached handle for holding the
tool firmly.
·        Navajo Grinding Stones – Dried and ground food is quite popular for Navajo cuisine. So, this is another important item, you should have while cooking with Navajo cooking tools. The grinding stones are used to grind dried nuts, fruits, vegetables, spices etc. These pair of stones is almost same like mortar-pestle with only difference that a flat surface is used here, other than a bowl.
·        Navajo Baskets – Baskets are also very important for Navajo cooking tools. Various baskets are used for various purposes, starting from carrying water to storing food. These baskets are made with materials like bark, grass, oak and hickory splints etc. Without these baskets, your experiment of cooking with Navajo cooking tools will remain incomplete.
There are several other specific Navajo cooking tools, which you might find by visiting any Navajo locality nearby your house. You can also learn few delicious Navajo recipes in this culinary visit.
Image Courtesy: old-picture.com, nativeamericanlinks.com
How To Use Navajo Cooking Tools In Your Kitchen