How To Use Aircore Cookware In Easy Manner

26 Jan 2011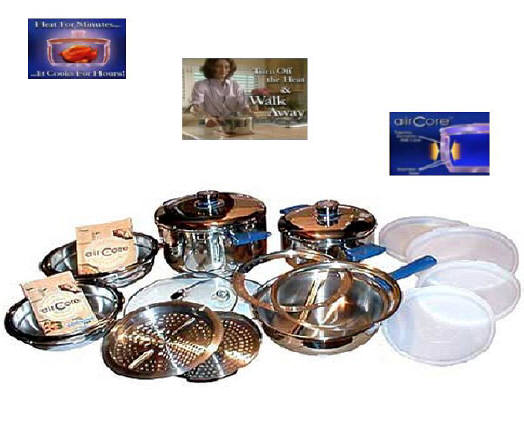 Aircore cookware has set new standards for cooking. Use aircore cookware and make your cooking easy, is what the Aircore manufacturers claim for their product. When asked from the customers about their experience in using aircore cookware, the response was overwhelming; they were very comfortable in using aircore cookware. This shows that even you should use aircore cookware if you really want to get rid of the hassles associated with regular cooking.
Aircore cookware is excellently designed that makes the cooking fast and easy. The cookware is made up of standard stainless steel and has dual lid and double wall layer. The dual-wall vessel design traps the air in-between the two steel layers just like a thermos flask. This is the secret behind the process of cooking food in aircore cookware where you can turn off the burner once the food attains the cooking temperature. Thus, the food gets cooked in the insulated pot even without the continuous heating through burner.  
As the principle behind the cooking in aircore cookware is slightly different so let's see how to use aircore cookware in easy manner so that using aircore cookware adds convenience to your cooking.
You can plan your meal at night and accordingly fill the aircore cookware with the ingredients.
Aircore cookware is available with dual lid so after you place the ingredients, make sure that you cover the cookware with the respective lid.
Next step is to turn on the stove burner to a medium or high flame and place the aircore cookware on it.
Wait till the ingredients in the aircore cookware gets heated and then turn off the burner. The gauge on the cookware will turn red and will indicate you that the ingredients in the cookware have been properly heated.
After you turn off the burner, your food will be cooked in the aircore cookware from the heat that has been trapped in-between the two layers of stainless steel.
Once the food is prepared, it will remain at ideal temperature for several hours and you won't need to reheat it before you eat.
Not only cooking but cleaning the aircore cookware is also very easy because nothing sticks or burns on the surface of the cookware.
Thus, use aircore cookware and make your cooking fast and easy.
Image Credit: giftfindonline.com
How To Use Aircore Cookware In Easy Manner