How To Use Cookie-Cutters In Designing Cakes?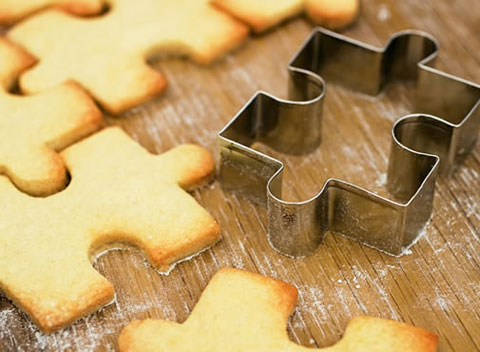 How to use cookie-cutters in designing cakes? I know this topic will strike all those self made bakers who often think of designing their cakes for better but fall short of ideas. I know there might be people around who may think that I have gone crazy. How can someone use cookie-cutters before baking the cake? Then I think they are right you can't cookie-cutters before baking the cakes instead you can use them only after you are done with the baking.
As the name suggests the cookie-cutters are used before baking the cookies. The cookie-cutter can't be used on cakes before baking because the cake batter is thinner than the cookie batter. After baking the cakes become strong enough to bear the shapes created by the cookie-cutter.      
Things you will need
Readymade cookie-cutters
Cake
Baking pan
Pastry brush
Frosting
Cooling Rack
Serving platter
Here are certain things which you should remember if you are set to use cookie-cutters for designing the cake.
Before baking the cake it is important for you to decide upon its purpose. It's better to follow a particular theme for a birthday, anniversary or any other event. If you are not so particular about the theme then at least think about the decorations which you are planning to make on cake.  
If you are bored of creating a cookie-cutter at home then use cookie-cutters purchased from market.  You can choose from different shapes of cookie-cutters available in the market. You can either go for the simple ones with the shape of the heart or snow flake or you can go for themed cookie–cutters. The cookie-cutters come in variety of shapes and sizes.  So, you can choose the best from the available ones.
Here is how you can use cookie–cutters to design a cake.
Bake the cake in the flavor or shape you want.
Cool the cake by placing it on a cooling rack.
After cooling transfer the cake to the serving platter. 
Apply a thin layer of frosting to the cake.  This layer will act as the background layer. You can skip this step if you don't wish to use the frosting.
Place the cookie-cutter on your cake at the location where you want to cut the shapes.
To get the desired results - apply the downward pressure on the cookie-cutter in the area where you want to create a shape.  Remove the cut out piece of the cake by applying pressure upwards.
Use pastry brush to dust off the remnants of the cake.
Place the cookie-cutter back on the cake and fill the spaces with colored sugar, or any other ingredients of your choice.
Remove the cookie-cutter slowly; otherwise the stenciled pattern will get spoiled.  To avoid the mess always pull the cookie-cutter straight up.    
Image Courtesy: woohome.com