7 Most Essential Pots And Pans You Should Have In Your Kitchen
7 Jan 2011
When you are stocking your kitchen for
the first time, take some time to learn about the 7 most essential pots and pans you should have in your kitchen. There are several types of pots and pans available in the market. Many of them are specially made for particular cuisines. However, all you really need are these 7 essential pots and pans, which will  be enough to cook just about anything!
7 Most Essential Pots and Pans for Your Kitchen
Large Skillet with A Lid 
A large skillet can be used to sauté, light fry or pan-roast foods. Having a lid will allow you to make sauces or glazes. The size of the skillet can vary according to the size of your family; a larger skillet will cook more food. When selecting a skillet, make sure you buy one made of tri-ply material; so that it will be evenly heated and can retain heat.
Cast Iron Skillet 
A cast iron skillet is essential if you need to cook food over intense heat for a long time. Some might say that maintaining a cast iron skillet is too difficult; however it only requires a little extra attention and is well worth the effort! Click here to learn how to keep your cast iron skillet as good as new.
Non-stick Skillet
A non-stick skillet is very useful for preparing pancakes, omelets or frittatas within minutes. You can also use the cast iron skillet as a non-stick one, if you go for regular seasoning. However, it will take some more time to heat up. While you are in a hurry, the non-stick pan may be the better choice. Just know how to take care of your non-stick skillet to extend its lifetime.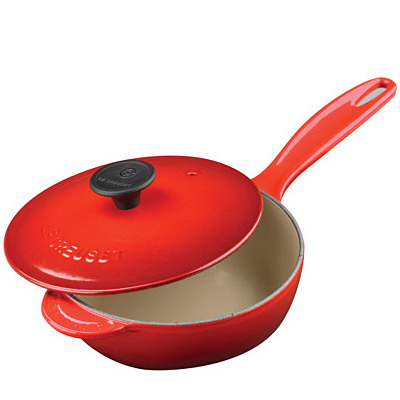 Saucier
A saucier can be also used for boiling or poaching eggs. Even if you want to heat up a glass of water, you can use this one. Sauciers come in all different sizes but a medium size will be sufficient. Make sure to buy one with a lid, as this will allow you to make a wider variety of dishes.
Wok
A wok is one of the most versatile kitchen pots! Use it to deep-fry or light-fry or stir-fry all kinds of dishes. You can even make gravy in a wok, and its large size allows it to cook more food at once.
Enameled Dutch Oven 
A cast iron Dutch oven is perfect for cooking soups, stews or braising meats. The cast iron material retains the heat for a long time and cooks the food uniformly. Use this pot for slow-cooking on mild heat by keeping on the lid. You can
also use this for deep frying. However, take care of the enamel part while washing, so that the coating does not get scratched.
Stock Pot 
A stock pot will help you save money and time by allowing you to make food that you can save and eat later. Prepare a full pot of stock and save the stock for later use. Steam lobster or crabs. Cook pasta or rice in large amounts. The list goes on and on!
Image Courtesy: superstoresearch.com, castironchater.com, kitchenniche.ca,
7 Most Essential Pots And Pans You Should Have In Your Kitchen