What Are The Advantages Of Glass Cutting Boards

4 Jan 2011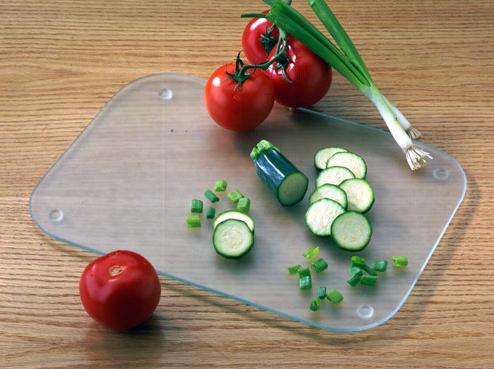 You don't have to be a Master Chef contestant to have the right kind of cutting board. Even if all you cook are the everyday, normal meals in your kitchen, it is important to have the right kind of utensils.
Say No To Plastics
Knives can score the soft plastic surface, which later turns a shade of black with all the dirt accumulated. Even if it has been cleaned well, there are chances of bacteria accumulating in this area. The only plus point is that you can rinse the boards with harsh chemicals and disinfectants, without causing any sort of damage to the material. But, do you really want to go through all that?
Glassware Is In
Glass is a great material to try, as there are some new varieties of it, which is crack, chips, stain and mark resistant. Tuftop has come up with glass cutting boards that fit into this category. As they have a cut proof surface, there are very little chances of bacteria, stain and marks and neither will you have to deal with stains and odor. You can simple wash those off after use, and do not have to be bothered about using chemicals to clean the surface. This is also dishwasher safe and heat resistant.
A Good Looking Kitchen Toy
Tuftop glass cutting boards can also be used as a serving platter and it can look quite elegant. This can also also double up as a centerpiece for candles. A glass cutting board, sure has may faces to it!
Image Credit: http://bakati.com
What Are The Advantages Of Glass Cutting Boards