How To Clean The Kitchen Clutter ?

3 Jan 2011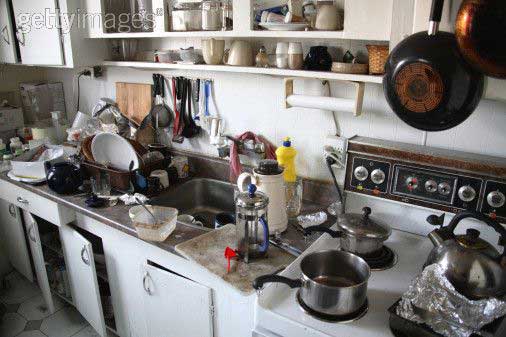 Cooking in the kitchen is fun but cleaning kitchen clutter is so boring. Until last year, I always dreaded cleaning kitchen and had no idea on how to clean the kitchen clutter. Then, one day I decided to break the ice and overcome my fear of cleaning kitchen clutter. It was almost 5 years since I had set up my kitchen and not cleaned kitchen cabinet even once. When I touched the saturation level of tolerating a cluttered kitchen, I decided to take charge of cleaning kitchen clutter and here what I learned from my experience.
Do not wait for too long to clean kitchen clutter, sooner the better and easier. Also I suggest do not wait to have a complete day for cleaning kitchen clutter, it will never come, so better clean one cabinet a day or in a week.
Since I had not cleaned my kitchen for about 5 years I decided to first sort out tools, utensils and stuff that I had used only once or about 4 years ago. If I had not used them in 4 years that means I would not need them in future. Just got rid of them immediately. 
The next step was segregating tools, equipment and utensils that I used in 3 years and 2 years. I retained the ones that I used within 1 year. I discarded the rest by donating them and selling few which were almost brand new.
After clearing unwanted stuff from kitchen, I took charge of repairing broken tools and utensils that I wanted to use. Those that did not seemed to be repairable were discarded.
Finally it was time to have a look at the food stored deep inside the cabinets. I segregated the usable ones and removed them from their original packaging and stored in air tight containers. Labeled a few spices for identification.
Many foods that I had but didn't want were donated to the local pantry for use.
Now that the kitchen clutter was cleared it was time to organize kitchen cabinets. I figured out a place for everything depending on its usage and kept them in place.
The next step was cleaning kitchen stains, I used baking soda to remove stains all around the kitchen and then it was turn for cleaning utensils, first cleaned burnt stains off stainless steel cookware and then few burnt stained baking trays.
Since there was a lot of food to be used at home, I decided to stop shopping and went about using the food that was already waiting at home.
I had a lot of soup packets, so I decided to host a soup and snacks party for my friends. To my amusement all the soup packages and snacks got over in one day.
After cleaning kitchen clutter, the kitchen is probably the best place to be in the house. My kitchen looked bigger, cleaner and it's faster to cook because there is no clutter to take away my time.
Image Courtesy: feng-shui-tips-for-wealth.com 
How To Clean The Kitchen Clutter ?