How To Brew Beer In Earthenware

24 Dec 2010
Year 2011 will be more fun if you learn how to brew beer in earthenware. Yes, you heard me right. Brew beer this winter without spending on the brewing kit. It will just take a few weeks, when you and your friends will taste the homebrewed beer.
Brewing is one of the oldest skills practiced in Germany. Germans are said to be the first to brew their own beer in Europeans countries.  An earthenware amphora from 800 BC was also found in the year 1935 which states the fact that brewing was done in earthenware.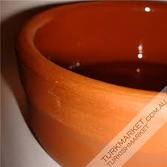 Though the entry level kits for brewing can be used but what a fun it would be to brew beer at your home in an ancient way.
Brewing as a process involves different stages such as fermenting, priming, bottling etc. Earthenware is used during fermentation as due to its porous nature it traps and holds the microbes that are essential for starting the fermenting process. So, are you all set to enjoy great tasting, cost-effective, and homemade beer?
Here is the list of things you will require:
Beer Kit
Yeast
Earthenware vessel
Sugar
Towel
And here is how to brew beer in earthenware:
Go through the instructions as mentioned in your beer kit. The beer kit usually guides about the amount and proper mixing of the ingredients. Though the measured differ according to the beer and the amount of beer you are making.

 
Make a mix of beer kit ingredients, water, sugar and yeast.

 
Put the beer mixture into the earthenware vessel. Shield the top of the vessel with a towel. The air should not be allowed to escape during the fermenting process.

 
Allow the fermentation process in a warm and dark place. 91.4 degrees Fahrenheit is the ideal temperature. Quite a long process, fermentation takes on an average 3- 10 days. During the middle of fermentation, i.e. on fifth or sixth day the beer might boil violently. However, the bubbles will stay till the end of fermentation.

 
You may now transfer the fermented beer into the desired bottles

.
The beer is brewed and ready to be served.
Cheers and enjoy.
Image credit- getprice.com.au
How To Brew Beer In Earthenware