How To Sharpen A Meat-Carving Set

21 Dec 2010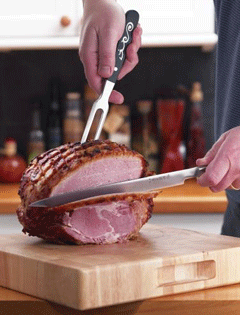 A meat-carving set is the most essential equipment in any kitchen that requires good maintenance from time to time. Maintenance means keeping carving set sharp all the time and it is important for home chefs to know how to sharpen a meat-carving knife. Do sharpen a meat-carving set regularly to avoid the hassles of cutting meat with a dull knife.
Advantages Of Keeping A Carving Set Sharp
You can cut like an amateur chef.

You get neat and uniform cuts of meat all the time.
Cutting is more efficiently done as it takes lesser time.
How To Sharpen A Meat-Carving Set? 
There are three different tools for sharpening a meat-carving set. All the three knife sharpeners require a different method of sharpening.
1. Sharpening Steel
Hold the sharpening steel with a tight grip and press the tip of it against a hard surface by holding the rod in a downward direction.
Take a knife and rub it against the sharpening steel rod in downward motion. The movement of the rod should be similar to cutting meat.
Continue rubbing with the same movement and change the side of knife after some time. And keep rubbing until you achieve a sharp knife as desired.
2. Sharpening Stone
Keep the sharpening stone on a rough surface and hold it tightly.
Slide a knife edge in a motion similar to slicing meat or a stone.
Continue with this movement until you get a sharp knife.
3. Automatic Knife Sharpener
Place the automatic knife cutter onto a hard surface or counter top.
It has a groove inside which the knife has to be inserted.
Make an inward motion and then a downward motion for sharpening. 
Continue doing so with all the knives until you completely sharpen a meat-carving set.
Tips For Sharpening A Meat-Carving Set
Clean sharpening steel after every use, preferably with warm water and soap.  Dry the rod properly to prevent rusting.
While using sharpening stone, wet it prior to start sharpening. Wetting reduces friction and thus enables smooth movements while sharpening a meat-carving set.
Image Courtesy: hartsofstur.com
How To Sharpen A Meat-Carving Set