How To Build A Trailer Mounted BBQ Smoker Unit

18 Dec 2010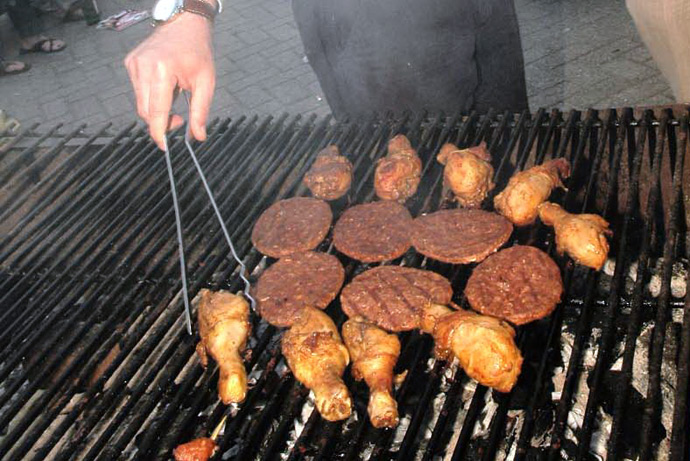 Many cooking enthusiasts long for a trailer barbeque smoker unit for their backyard. There are many ways to build your own trailer BBQ for home, let me take you through some easy steps on How to Build A Trailer Mounted BBQ Smoker Unit
Here is the list of equipments and products that you'll need
Trailer – the size depends on how big you want the BBQ to be and also if you want a two wheeler or a four wheeler
Heavy bolts
Wrench set
Accessory box
Drilling Machine with bits of various sizes
Large metal tank or drum
Screwdriver
Welding Machine
One of the most important unit's in building the BBQ is the Trailer unit. Choose this carefully and thoughtfully by considering the space you have, the purpose of the unit etc. A four wheeler trailer has a large square foot area, and can house a very large barbeque. While, the smaller version, the two wheeler one has a smaller BBQ but it is easy to maneuver and is ideal for home barbeque parties.
Next step is to assemble the smoker unit and the grilling unit. Make sure that the trailer aligns well with the smoker and grilling unit, so that they can be attached permanently.
Make sure that you place heavy wood block or stones in front of each trailer tyre, so that the trailer is secured at one place. Use a jack stand to temporarily support the trailer, so that it does not move.
For a trailer mounted BBQ smoker unit, place the BBQ unit on the trailer. Make sure that the trailer bed is of a heavy metal and is compatible with the BBQ unit, since you are going to weld the BBQ unit to the trailer bed. Now use a sheet metal and welder to weld the unit to the trailer.
Now using the drill machine, drill from all the four BBQ legs straight down through the trailer bed. Mount bolts and secure with the wrench. This will ensure that all the four BBQ unit legs are secured to the trailer unit.
Mount any additional items that you want, such as an accessory box, tool holder etc. Make sure all the nuts are tight, so that the trailer can now be attached to the movable unit. Unblock the tires, and drive the trailer mounted BBQ smoker unit to the place of your choice.
Well, that's about it. I hope you find these steps helpful in building your very own barbeque unit.
Image Credit: edhv.nl
How To Build A Trailer Mounted BBQ Smoker Unit