How To Use A Pampered Chef Stone
10 Dec 2010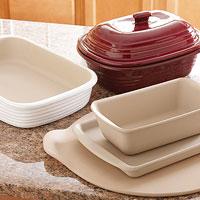 If you are planning to buy any baking utensil from Pampered Chef Stone for the coming holiday season, you should learn about – how to use a Pampered Chef Stone. You have to take some extra care for using these Pampered Chef Stone items as they are made from natural stoneware clay. However, you will get really good and effective results, when you bake using any of these products. The basic advantage of this stoneware is that the heat gets evenly distributed all over the surface. It also retains the heat to keep the baked item fresh and warm for quite a long time. Different types of baking utensils are available for your different purpose of baking like muffin or pie or loaf or cake. Here you will find some of the important uses of the Pampered Chef stoneware.
Muffin Pan – This set is perfect for baking the muffins or cupcakes. You can bake at most 12 muffins or cupcakes in this pan.
Pie Plate – It is ideal for baking any kind of pie. The plate will give exact shape to your pie crust, as it has a decorative and scalloped edge.
Bar Pan – These bar pans are available in variety of sizes. You can use them for baking sheet cakes, bar cookies or jelly rolls. These are also ideal for roasting fresh vegetables.
Round or Rectangle Stone with Handle – This stoneware is perfect for baking homemade pizzas or any other type of appetizers or cookies. The attached handle makes it easy to move in and out of the oven.
Loaf Pan – You can make your choice of multiple bread loaves or meatloaves or small fruit cake loaves in this loaf pan.
Rectangular Baker – Whether you are going to bake lasagna or casserole or cake or dessert, it would be a right choice.
Fluted Pan – Want to make delicious and decorative fluted breads or cakes, then use this stoneware. The perfect shape of the pan will make your flute look elegant.
Deep Covered Baker – This is one of the most versatile baker pans, where you can bake anything of your choice, be it a casserole or roast or baked chicken or even your choice of dessert.
Image Courtesy: merchantcircle.com
How To Use A Pampered Chef Stone