Ideas for Handheld Bakery Items
9 Aug 2010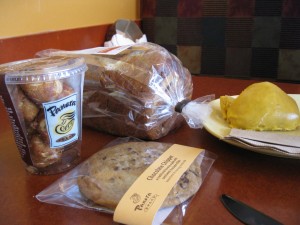 Handheld bakery items are an ideal option when you have to bake for a party or you want to sell baked goods at some event.  These products are easy to eat because of their small size which is why they are a hit amongst the guests at parties and events. When you choose any recipe, make sure that you pick the ones which do not create a mess when they are eaten while moving.
Sweet Pretzels

Pretzels are traditionally salty. Try giving them a sweet twist. Make your own version of cinnamon-and-sugar pretzels. You can use sweeter dough that will help you create a texture similar to cinnamon roll. You can dust these pretzels with sprinkles, sugar or cinnamon. You can also serve frosting in small cups as a frosting to dip the pretzels.
Folded Pies

You can make a handheld version of pies which is easy to eat even while you walk around or move here and there. Make pie dough in the same way as you would normally do and roll it in the form of a circle which is approximately six to eight inches in diameter. Put the filling in the center using an ice cream scoop and then fold one half of the dough. Finally, you should secure the pie by folding as well as pinching its edges.
Cookies

Cookies are very easy handheld bakery item to prepare for any party or event. Their wow factor can be easily increased by adding a special touch like some simple frosting or an additional layer of nuts or chocolate or you may add a layer of colored sugar that looks amazing. Keep the size of the cookies bigger when you bake them for the ease of carrying, and you may also make cookie sandwiches using two cookies and filling them with cream or frosting in between.
Cupcakes

Cupcakes can be customized in several designs according to the event where they are supposed to be served. When you sell bakery at any type of an event, presentation matters the most. Adding filling, using decorative frosting and adorning the cake with cake decoration tools are the options that can be utilized to decorate cupcakes. Festive cupcake wrappers, elements like fresh flowers, a toy or candy piece are certain other add-ons to be used on the top of a cupcake.
Flan Cups

Mini flan cups are a wonderful addition to any special party or event. Bake the flan in tiny cups made of plastic or aluminum.  Add small spoons to every cup to make these tiny flans look even cuter. Guests and customers may roam with these cups easily. Also, their cleanup can be easily done. Same procedure can also be used for preparing and presenting creme brulee or custard cups.
image credits : bakingfix.com
Ideas For Handheld Bakery Items