How to Make a Successful JELL-O Mold
21 Jun 2010
Since its debut in the late 19th century, Jell-O has graced millions of party tables in one form or the other; every family has their very own Jello recipe. Today I will share some simple tips on how to make a successful Jell-O mold. 
1.Prepare the container or mold in which you will set the Jell-O beforehand. Clean the container and wipe it dry. Grease the container with oil or cooking spray. Place a thin strip of aluminum foil at the bottom of the mold, allow it to run through the sides all the way to the top, and extend 2" beyond the rim of the container. Press the foil strip to remove any air gaps. Now chill this container in a freezer.
 2.Dissolve the Jell-O crystals completely in boiling water to get an entirely clear liquid. This is absolutely essential for preparing uniform Jell-O molds. 
3.If you are a beginner, it is easier to handle a firm Jello mold. For this, reduce the amount of water used for dissolve the Jell-O crystals by 1/3 quantity; i.e. for every 3 oz packet of Jell-O use 2/3 cup of water.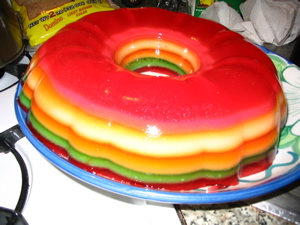 4.Add few ice cubes to the dissolved liquid and stir vigorously till thick. Once thickened, remove out the unmelted ice cubes. This helps the Jell-O to set faster
. 
5.Pour the thickened Jello liquid into the chilled mold and gently swirl to cover the sides and corners of the mold plus allow air bubbles, if any to escape. 
6.Chill the Jell-O at 38oF or less for at least 60 mins to set the Jell-O. When set, the jelly will not feel sticky or sag when tilted, and on pressing will bounce right back. 
7.To unmold, moisten the surface of the Jell-O and a chilled serving plate with cold water or ice cube. This will allow the Jell-O mold to easily slide over the serving plate. Tug at the foil strips to release the vacuum. Now place the chilled tray over the mold and invert the mold and the plate together. 8.Always use a chilled serving dish to prevent the Jell-O from melting. The serving dish must be wider than the opening of the mold, or else the Jell-O can break. 
9.If the Jell-O does not unmold, dip the Jell-O container in warm water for a few seconds and try to unmold. Don't dip too long or use hot water, otherwise the Jell-O will melt. 
10.To prepare layer gelatin mold, chill each layer till just set but not firm before adding the next layer. If the previous layer is firmly set, the layers will not hold fast and slip when unmolded. 
11.Do not add fresh fruits to the jelly mold, as the enzymes will not allow the gelatin to set. Use canned or cooked fruits instead (heat destroys the enzymes). 
Follow these and you will be transforming this innocuous packet of gelatin into those wonderful edible crafts in no time! Image Credits: google.com
How To Make A Successful JELL-O Mold