Cheese art!
I have always loved cheese and hated milk, to my mother's dismay. Any type of cheese and anything made of cheese, be it Cheese cakes, Cheese fondue or a simple grilled cheese sandwich, kicks my hunger in. Now, there is one more form of cheese that leaves my stomach growling. Cheese Art! Just take a look at these!
The Cheese Lady
Sarah Kauffman, also known as the cheese lady took a degree in commercial art from Madison. She has been creating these amazing cheese sculptures for years now and makes them to support children's events, corporate events, art exhibition and even fundraising events. She even makes customized cheese statues for personal events.
Mount Rushmore of Cheese
When is the last time you saw George Washington, Thomas Jefferson, Teddy Roosevelt and Abraham Lincoln at one place, Mount Rushmore right. Now you can find them on a block of cheese too. Troy Landwehr carved a whole cheese block and made an exact replica of Mount Rushmore. The cheese carver and winemaker who was commissioned by Cheez-It snack crackers to make the monumental carving has also made other interesting cheese sculptures.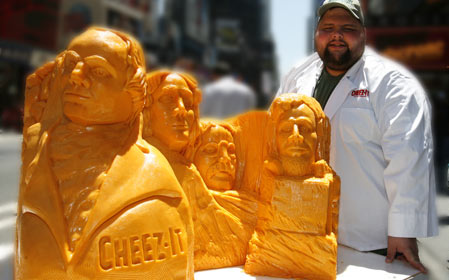 Cheese on my bed!
Cosimo Cavallaro is an Italian-Canadian artist, filmmaker and sculptor. He is famous for his usage of cheese as a medium of art. He is the same artist whose exhibition of a sculpture of Jesus in chocolate got cancelled last Easter.
Some of his cheese creation include a whole hotel room covered with melted mozzarella cheese and even a cheese jacket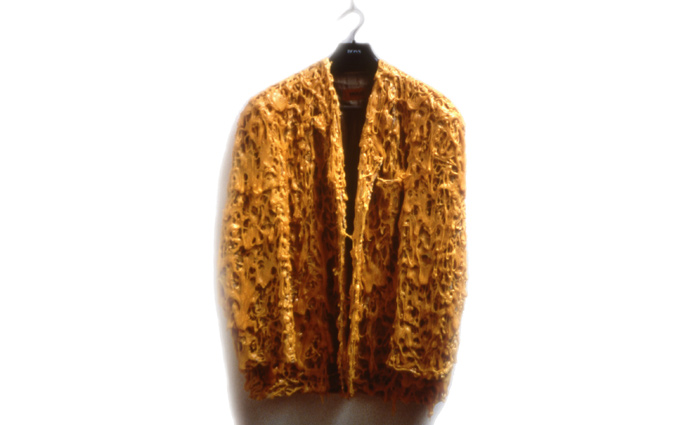 Now that's really a lot of cheesy art. No pun intended there! Honestly! :-)!
Image Credit
www.brownfieldnetwork.com
www.cosimocavallaro.com
www.cache.daylife.com
www.worldrecordsacademy.org
www.brownfieldnetwork.com
Cheese Art!