Top 10 Seafood Quotes

20 Apr 2012
Nothing is as flavorful and as delicious as seafood! No wonder, these have often been used in several quotations and references by  famous personalities. They  are all witty, humorous and many a time closely associated with everyday living and circumstances. Some of the best quotes on seafood are mentioned below. Keep reading…
Interesting quotes:
1.   "Instead of finding ways to discourage people from eating seafood, we should be busy finding ways to help everyone eat better. Canned tuna is so healthy and affordable that everyone can easily gain its benefits as part of a healthy diet."David Burney
2.  "We've got a big problem with the rest of the country thinking all seafood in Louisiana is tainted. It's not." Harlon Pearce
3. "We don't bread our seafood and then freeze it. It's all done fresh." Helen Rollo
4. "I love the coast, I love the seafood, ... Then they asked me how I like my steak cooked, and that shocked me." Roy Williams
5. "When publications like the Baltimore Sun run headlines like 'Seafood, tea, sauerkraut in food spotlight,' you know that sauerkraut has arrived in the national consciousness and has spiked in popularity. We've seen our sales climb pretty rapidly in the fourth quarter of 2005 as people have learned about the health benefits of sauerkraut and continued eating it because of its versatility and flavor."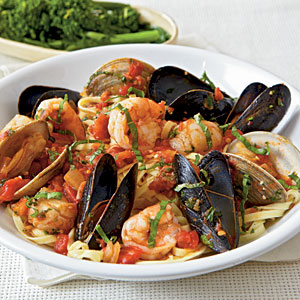 Chris Smith
6. "[The lobster vendor was one of two new seafood businesses that set up shop on the roadway between the Coliseum and horse barn and the fence adjacent to State Fair Boulevard, facing the additional challenge of attracting customers in a location that had no vendors at previous State Fairs.] I heard there was nothing but horse trailers here before for years, ... We've got two obstacles to overcome. The traffic pattern is not ingrained, the way they walk around here. I hope they want to come and explore the new area and see." James Wright
7. "This allows legislators to understand the problems our seafood producers are dealing with. They can see with their own eyes that the needs are great." Ewell Smith
8. "Restaurants are selling a lot more fish on Fridays. The only thing we're required to do is avoid meat on Fridays. Seafood is not on the list, so a lot of people include seafood in their diet." Jamie Johnson
9. "Seafood makes you live 10 years more." Kevin Steele
10. "Seafood on the grill can be intimidating if you don't know what you are doing. It's really quite easy." Kevin Steele
Do you have more of such interesting food quotes? Share with us and keep reading our other quotes on food.
Image credits: womensfashion-chennai, ernielb
Top 10 Seafood Quotes