Top 10 Alcohol Quotes

26 Mar 2012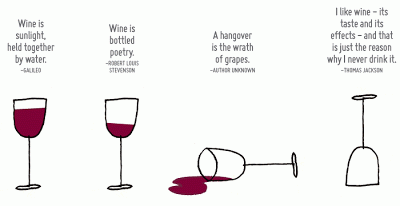 How many times have you laughed or giggled at a  serious 'speech' when the speaker had had some extra glasses of beer? Just think for a moment and you will find many such funny incidents which  still make you smile. There are, infact,  hundreds of quotes on alcohol – some of which are guaranteed to make you laugh. Here are some of the most interesting quotes on alcohol, gathered together just to bring a smile on your face!
Best quotes on Alcohol:
"When we drink, we get drunk. When we get drunk, we fall asleep. When we fall asleep, we commit no sin. When we commit no sin, we go to heaven. Let's all get drunk, and go to heaven"

 
"A man was walking through a seedy section of town, when a bum walked up to him and asked the man for two dollars. The man asked, "Will you buy booze?" The bum replied, "No." Then the man asked, "Will you gamble it away?" The bum said, "No." Then the man asked the bum, "Will you come home with me so my wife can see what happens to a man who doesn't drink or gamble?"

'Don't drink and drive, you might hit a bump and spill your drink.'

 
"How come if alcohol kills millions of brain cells, it never killed the ones that made me want to drink?"

 
'Alcohol may be man's worst enemy, but the bible says love your enemy.'

~Frank Sinatra

 
'This is one of the disadvantages of wine: it makes a man mistake words for thought.'

 
'Always remember that I have taken more out of alcohol than alcohol has taken out of me.'

 
'I only take a drink on two occasions - when I'm thirsty and when I'm not.'

~Brendan Behan

 
"Alcohol is not the answer; it just makes you forget the question."

 
"You can't be a real country unless you have a beer and an airline – it helps if you have some kind of a football team, or some nuclear weapons, but at the very least you need a beer."
Do you have more funny quotes on alcohol? Share it with the ifood family and lets enjoy together!
Image credits: somethinkfun.blogspot
Top 10 Alcohol Quotes