Thai Food Festivals
20 May 2011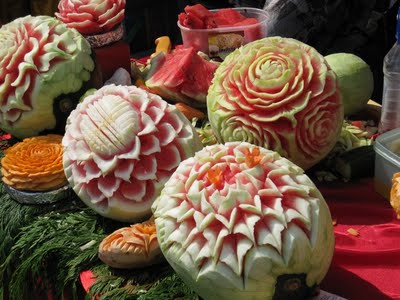 Thai food festivals are distinct in their own way of offering culinary nuances with a hint of regional cuisines. Thai cuisine has seen its origin in Central Asia, and thus comprises of basic and ethnic herbs, spices, and delicacies in bounty. Thai food festival is celebrated with much fervor, and aesthetics, and is nice semblance of traditional and modern cuisine and culture blend. People undergo, fast, and rituals, and bring in the spirituality coinciding with food and feast. Thai food festivals are the time of dedication to temples, and religion, and also call for food abstinence in some province of the region. The best feature swirling the Thai food festival is that it is celebrated with same verve and excitement across the globe. Be it India, Britain, Korea, United States, or European province, people are great fan of Thai culture and exquisite food line up. Let us gain some special culinary experience by knowing more about the Thai food festival.
Thai Food Festival: Timeless Experience
Thai food fest showcases a rich blend of food culture, and history, which is a way too impressive. It is harmonious combination of centuries old Eastern and Western influences.
You can boast of tasting the best of cuisines from North, East, and Central Thailand. Special Thai dishes like seafood, sushi, sashimi, hearty soups, incredible variety of fish recipes, and basic Thai diet, like sukhothai are popular presentation. Some of the best served dishes are Tom Yum soup, Pad Thai, Satays,  Yellow green Massaman curries, and stir fries. You get a whole new experience of Eastern cuisine delight in this ten-day festival of foods.
Features of Thai Foods festival
One of the highlighted features is that Thai food and cuisines are distinct with different flavor, and spices from one region to other. If it is rice and fish diet in the central part, you could expect rice, with herb infusion in North part. If it is noodles varieties from Bangkok, you can see fragrant recipes from East or Gulf parts.
Popular Thai Foods
An exotic display of Thai dishes could include the following in menu: Het phat met mamuang (mushrooms soaked in cashewnuts and pepper), phad phak kraphao (Veg stir fried with basil), broccoli phat het hom, Keng ped gai (Chicken in red gravy of coconut milk and basil), Litchies toffee, Yam neua salad, and many more mouthwatering savouries.
Thai food festivals are very much influenced by the place and ocassion. The inception of festival is marked by showcasing the rich Thai dance and culture, which is trailed by thai food celebration.  It is a must visit for those who can`t get to see enough of Thailand.
image credit: ifood.tv, randomthoughtsdotcom.blogspot
Thai Food Festivals