5 Fun Reasons To Follow Mardi Gras Food Traditions

25 Mar 2011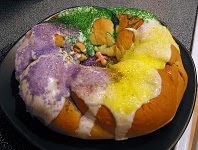 You need not go to New Orleans to know and enjoy Mardi Gras food traditions. The Mardi Gras food traditions can actually be nicknamed as the celebration of binging on fatty foods. People claim that since it is the last night before the Lent season begins on Ash Wednesday, it is very important to stick to Mardi Gras traditions, especially food. These are few fun reasons why you need to adhere to the Mardi Gras food traditions.
1. Paczki Are Just Doughnuts!
Paczki is one of the most important Mardi Gras food items. But, for those who don't know, let me tell you that these are just doughnuts. The traditionally prepared doughnuts are very tasty and delicious. And you can choose from a wide variety of flavors like prune, raspberry and even chocolate. For all those doughnut lovers out there, make this an excuse to enjoy Mardi Gras food this year.
2. How Can I Avoid King Cake?
Yet another good reason to follow Mardi Gras traditions. Mardi Gras celebrations are incomplete without King Cake. The green, purple or golden icing on the cake top adds glitz and glamour to the festivities. A vary delicious cake, it is also the representative of faith, justice and power. So, how will I avoid King Cake.
3. My Family Follows & So I Am Following.
This is really a funny reason. Mardi Gras marks the end of festive season and the beginning of fasting. So, all of us will be looking forward to enjoy this day. But if you are bound with some restrictions or if your friends ask why you are following the traditions, then this is a very funny reason to say. And of course, who would want to skip such a sumptuously delicious meal.
4. I Get Semlas Only During This Season!
The word Semlas is enough for you to dribble. These yummy pastries filled with almond paste or jams are available only during this season. i.e. After Christmas and before Easter.  These dinner biscuits are delicious treats to your sweet tooth, but not a very healthy option. Make this seasonal food a reason to enjoy Mardi Gras food traditions this year.
5. Mardi Gras Food Is Healthy!
Yes, the best and the funniest of the reasons. Mardi Gras food traditions are healthier ones. And hence I am following them. People who are attempting to lose weight can make use of this 'lame' excuse and binge on the food of their choice on this eve. After all, I am going to fast for 40 days after this and I can stick to my weight loss regimen.  
These are few of the funny reasons you can cite to follow Mardi Gras food traditions. Of course, try to come out with more creative reasons to enjoy the eve this time.
Image Credit: whatssospecialaboutneworleans.blogspot.com 
5 Fun Reasons To Follow Mardi Gras Food Traditions