Embroidered Bread - Latest In Food Art

4 Feb 2011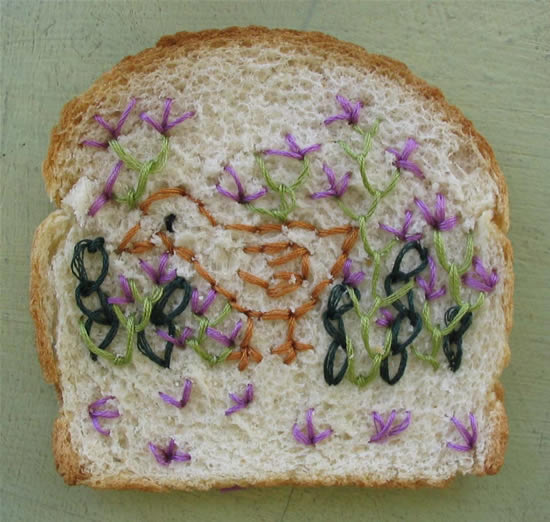 Creativity is always seamless and effort of one such creativity is Embroidered Bread. I have come across embroidered chiffons and crepes numerous times, but this is the first ever time that I am coming across something like an embroidered bread. Hats off to the creativity of artist Catherine Mc Ever! Embroidered bread is the latest thing in the range of creative products.
A look at this wonderful embroidered bread of Mc Ever, and you will find yourself struggling to wink you eyes. I am not exaggerating. Have a look at the images from Catherine Mc Ever's embroidered bread. The kind of pain and effort she has taken for coming up with these embroidered breads is clearly visible from their neatness and prettiness.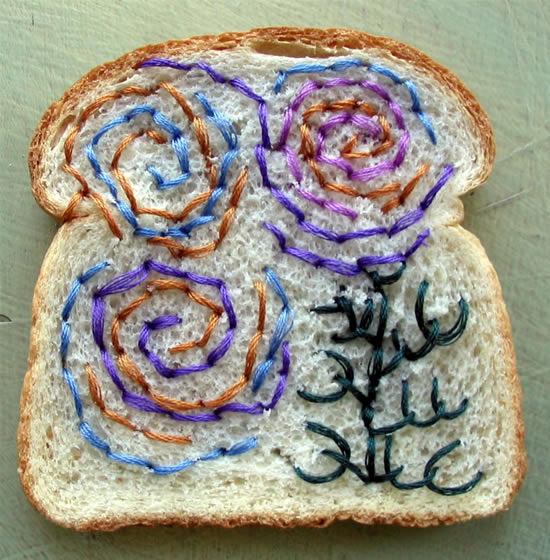 Catherine Mc Ever has worked "very, very carefully", on these embroidered breads. She has embroidered various patterns into these embroidered breads like fish, flowers, stars and even a very neat and appreciable adaption of 'The Starry Night' by Van Gogh.
Even though you feel that few of these embroidered breads ethereal, Mc Ever has managed to keep these craft masterpieces for more than four years, of course without damages.
Wonder bread, as it is in the truest of its senses, has been designed by Mc Ever by stitching nature inspired patterns on to the surface of the bread using colored floss.
The amount of patience and creativity it requires to make this creative embroidered bread is really worth appreciating. When compared to the bacon art, the designs of embroidered breads can be really peaceful and calming.
The embroidered bread is definitely something to which we all can look on to for improving our creativity. Once again hats off to Catherine Mc Ever. For more images and details, visit Catherine Mc Ever's website.
Indeed, embroidered bread is one of the best thing in terms of innovation, creativity and embroidered art. 
Image Credit
Embroidered Bread - Latest In Food Art