Fun Cooking Ideas With Chocolate - Have Fun With Chocolate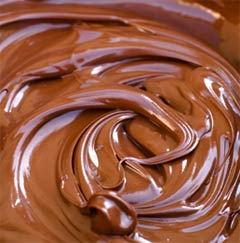 Fun Cooking Ideas With Chocolate - Have fun with chocolate!! Yes, Siree!! I don't know about you but I know that I can have fun with chocolate; morning, noon and night. I can have fun with chocolate even in my dreams. Dip in chocolate; I'm happy. Send me chocolates(read: Godiva and Lindt); I'm happy. And when I die, bury me six feet under with a box of chocolates; my soul would be happy. Whatever! Chocolates just make people happy; especially women. There are so many fun cooking ideas with chocolate that one must try every now and then. Why? Simply because it is chocolate and it is fun cooking with chocolate. The fun cooking ideas could vary between very simple to the oh-my-God-that-is-crazy varieties. I'm going to discuss 3 fun cooking ideas with chocolate with you.

The Chocolate Lingerie

I know that there these delicious chocolate lingeries available in the market. But, wouldn't it would be fun making them? Yes, but it also requires some careful planning. In my opinion, this is the ultimate chocolate recipe that satisfies both the wearer and the feaster. Valentine's day will be here in a month's time and this would be totally worth it. Besides you can have fun cooking this one.

The Chocolate Gravy

Remember how Juliet Binoche in the movie Chocolat, poured that chocolate sauce over chicken that made the people forget everything, just close their eyes, and indulge in its goodness. I would have seen that scene alone a few thousand times. I also have a notion that it would be sinfully delicious but one of the best fun cooking ideas. Just add a dash of chili powder and cinnamon with dark chocolate would make an excellent gravy.

The Chocolate Gum

Yes, this is a mash up between chocolate and chewing gum. This is an ingenious idea. Who ever thought of this fun cooking idea is a genius. You can pick up the gum base required from any Craft n Hobby store and make them at home. This might require a couple of trial sessions before you can get it right.

What I've suggested above are a bit challenging, but it would be fun to step out of your comfort zone and try out something new with chocolate. Good luck!

Image courtesy: rockmebeautiful.blogspot.com