How To Build A Chocolate House With Children

1 Dec 2010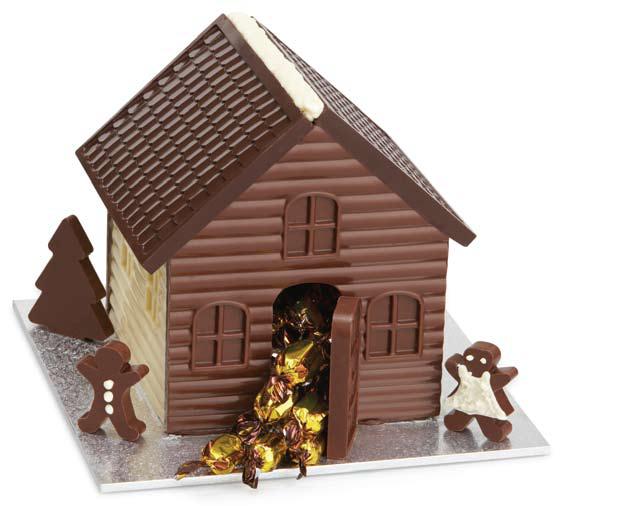 Relive the life of Hansel and Gretel and make your own Chocolate House
The story of Hansel and Gretel was my favourite since the time my mother read it out to me when I was a kid. I loved the idea of a house of sweets, and even at the risk of meeting a witch, I wouldn't mind being near one. Ever since, I have wanted my own chocolate house, and I finally learnt how to go about it. Now a chocolate house is a great way to keep one occupied during the winters and it can also make a perfect house warming gift to your close friend. Though it looks complicated, it is a rather simple process.
It s best to use edible items to decorate the house, as it is child safe, and it brings out your creativity. You can also get some of those chocolate mold to make trees or animals. Though it is a fun exercise there are times when your kids will need some help from you. If you want more colour in your chocolate house, you can opt for white chocolate and paint it with edible shades... green shutters and doors, red roofs and flowers in the garden.. all this can easily be done with a little patience.
How to go about it:
Stores like Hearthsong stocks chocolate house molds, and the package comes with real chocolates, which is just about enough to make one chocolate house, but as the molds can be reused, you can make chocolate houses whenever your kids (or the child in you) feel like one. It is advisable to buy your own chocolates, if you plan to eat the house - just to be safe. You can opt for dark and white chocolate, and also mix them up together for that lovely choco-brown shading. To make a house, you might require a pound of white and black chocolate.
You can make a chocolate house, by just following a few simple steps. Melt and pour the chocolates into the mold, to make doors and roof panels. Once they are done, put them into the freezer, and let them chill in the refrigerator, and pop them out once they are done. Assemble them, that is when an adult supervision is required, and they are ready for the final finishing touches. You can paint them in bright shades, using food colouring and decorate it the way you want.
Party Time:
Once your house is done, its time for the party to begin. Break the house up into pieces, and eat them all up like hungry Hansel and Gretel or if its too much, use them in chocolate cakes, chocolate milk shakes or hot fudges or mince it up and use it as chocolate dust, the next time you make some dessert.
Making a chocolate house was never easier. I am sure poor Hansel and Gretel had no idea that it was all so simple.
Photo Credit: http://lickthebowlcomau.wordpress.com
How To Build A Chocolate House With Children