How To Create A Grape Bunch Costume
5 Oct 2010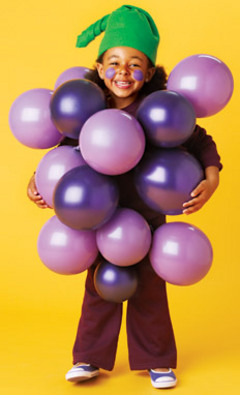 Your child has been asked to dress up as a bunch of grapes for the school function and you don't know where to begin with. Would you let you child down or would you rise to the occasion and help your kid become the star of the event? Well, creating a grape bunch costume doesn't require you to be a fashion designer. You can turn this project into a fun outing for yourself and your child and enjoy a whale of a time together. 
The Easy Way
An easy way to prepare a grape-bunch costume for your kid is to use multi-colored balloons. Start a green or purple color sweat-suit and work with purple balloons. You can ask your child to help you in blowing up the balloons. Once you have a sufficient number of balloons (enough to cover the upper body of the child), you are ready for the project. Carefully add each balloon to the upper part of the dress keeping minimum space between the balloons. This will make the balloons look like a close-knit bunch of grapes. You can also use some real leaves and stick them around the bunch to make it look as natural as possible. When you take your child to school to participate in the event, keep a few extra, blown-up purple balloons handy so as to replace in case one of them bursts accidentally.
The Difficult Way
Don't be intimidated with the word difficult because this process may be more time consuming but you can store this costume for a longer time. In this method, you need to estimate the total number of grapes you will need. Depending on that pick up cloth in one or two shades and cut round pieces out of the cloth. Ensure that each round piece can be bunched together to make a medium size grape, so that you have enough to make your child look like a bunch of sufficient grapes. Fill up each cloth piece with waste pieces of cloth and tie the ends together to make a round and fat grape. You can also use waste paper instead of cloth pieces. Once the grapes are ready, sew them on to the sweat-suit carefully, giving it the appearance of a bunch of grapes.
Other Articles You May Like To Read:
2. How To Make Rock Candy On A Stick
3. How To Make Royal Icing Poppy Flowers
Image Courtesy: al.com
How To Create A Grape Bunch Costume