Snacks for Boosting Goodwill!
2 Aug 2007
India and Pakistan share much of their common histories, culture ,cuisines, languages and religion. Following snacks are much popular in both countries .These snacks may helps in boosting goodwill in both countries.
1.Pakora:Pakora is a type of Indian cuisine or Pakistani cuisine created by taking ingredients such as chicken, onion, eggplant, lentils, potato, spinach, cauliflower, tomato, and chilli, dipping them in a batter of gram flour and then deep-frying them. They are usually served as snacks or appetizers.
In Pakistan, Muslims make pakora in Iftari dinner in the holy month of Ramadan. Pakora is a common snack in Pakistan as well as India.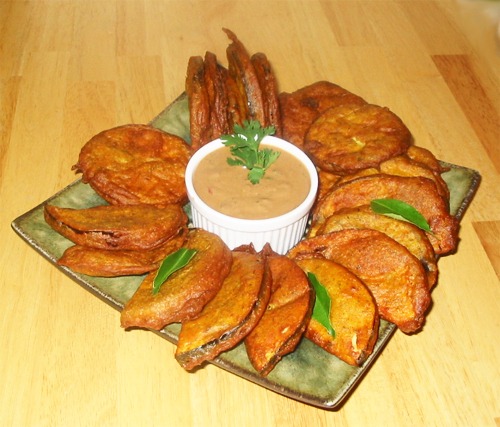 1.PANEER PAKORA: http://ifood.tv/node/203
2.ALOO PAKORA:http://ifood.tv/recipe/aloo_pakora
3.ONION PAKORA: Â http://ifood.tv/recipe/pyaz_ka_pakora
4.PALAK PAKORA: http://ifood.tv/recipe/palak_pakora
2.Samosa:A samosa is a common snack in South Asia, in countries such as India and Pakistan.
It generally consists of a fried triangular- or tetrahedron-shaped pastry shell with a savory potato, onion, fresh coriander, Â Paneer and pea stuffing, but other stuffings like minced meat and fish are often used. The size and shape of a samosa, as well as the consistency of the pastry used, can vary considerably. It can be spicy and is often eaten with chutney, such as mint, coriander or tamarind. It is often savored with tea or coffee. It can also be prepared as a sweet form, rather than as a savory one. In Pakistan samosas come in various sizes and with various stuffings, and are often accompanied by various kinds of chutneys, such as mango chutney and mint chutney. In the city of Hyderabad, India, a smaller version of the samosa with a thicker pastry crust and mince filled center is called a Luqmi.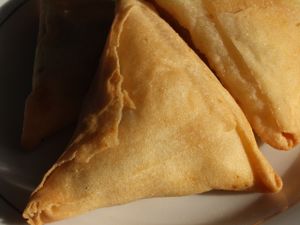 Enjoy samosa at--http:// www.ifood.tv/node/723
http://www.ifood.tv/recipe/samosa
3.Shami Kebab:A Shami is a small patty of minced beef, mutton or chicken and ground chickpeas and spices.
Shami kebabs are an extremely popular snack in India and Pakistan. They are often garnished with lemon juice and/or sliced raw onions, and are usually eaten with chutney made from mint or coriander. They are also served along with Sheer Qorma on Muslim Eid Days.
          SO, PLEASE TRY THESE GOODWILL SNACKS!
 
Snacks For Boosting Goodwill!