The Art of Food Presentation!
A beautiful food presentation can trigger ones appetite as much as the aroma of well cooked food. Sight and smell do influence our daily food choices and this must be why food presentation has been elevated to an art in itself. Even children judge the food according to the way it looks, so it is of no surprise that a well presented meal tends to have more takers and brings out more compliments. Ultimately food presentation is the finishing touch on a hard days work. Something you can enjoy doing!
 
 
 
 
Often, we see chefs coming up with intimidating and aesthetic food presentations. Though it may look hard the art behind food presentation is quiet easy to grasp. Here are a few basic tips on Food Presentation:
 
First of all select the color theme of your food presentation. You should select the color theme with the color of your dishes in mind and you should also remember that the theme will be reflected through out the setting. You are free to use use your creative instincts. As a rule I either go for contrasts or different shades of the same primary color.

Use table mats that compliment the color theme of the food presentation. It is always better to use lighter shades when setting the table.
Give particular attention to the shape of the plates. You can choose uniquely shaped plates as long as they hold the food comfortably. The color of the plate should contrast the color of your dishes. Light colored plates for colorful food and vice versa.
 
 
When filling the bowls with food, ensure that it doesn't spill and that the empty space of the plate is clean.
Place the required cutlery on the table. Don't clutter your presentation with unnecessary items.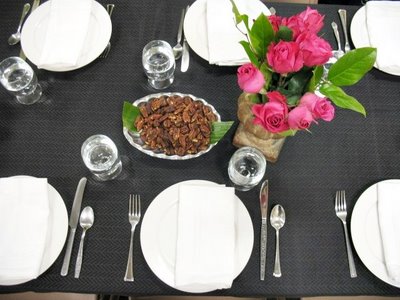 When setting the table don't leave too much or too little space between the food items. Place the main food item in the front. Also it's always better to place the longest food item at the end of the table. If you have a round table, keep the main dish where it is accessible by all.
If the food was prepared a long time ago, brush it with a little warm water and olive it to give a "just cooked" look.
Try and garnish your foods to add to the aesthetic appeal of your food presentation. You can check out for some tips on garnishing food here.
 
 
Remember that food presentation is a flexible art that is completely dependant on your creativity and in time, your expertise. I am sure these tips about food presentation will make you more confident the next time you prepare your table spread. With a little creativity and practice you might be the next Picasso of food presentation. Of course, don't make the food unrecognizable!
 
Image Credit
www.blogspot.com
www.slowfoodcentralpa.com
The Art Of Food Presentation!