Top 10 Low Calorie Smoothies

16 Apr 2012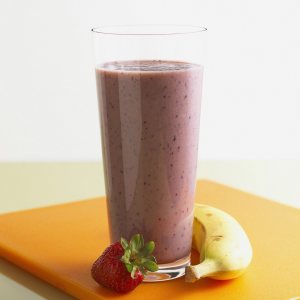 Smoothies are an excellent option when you are both hungry and thirsty, but they always send you diet for a toss as they are calorie dense. So, how to enjoy the creaminess of a smoothie without piling on the calories? Try out these low calorie smoothies that would be a welcome addition to any diet plan on a warm, sunny afternoon.
Low Calorie Smoothies
Honeydew-Kiwi Fruit Smoothie: This delicious smoothie is made with honey dew and kiwi fruit, loaded with potassium and vitamin C, it is an excellect addition to any diet as it contains only 110 calories.
Chocolate Smoothie: This special chocolate smoothie adds only 117 calories to your total calorie intake. Low fat milk, banana, unsweetened cocoa powder, and maple syrup is all that you need to make it at home.
5 Strawberry Smoothie: Blend in peach or orange flavoured juice with water, ice and 5 fresh or frozen strawberries to make this delectable smoothie that contains less than 130 calories. You can even try it out with any other fruit juice!
Breakfast Smoothie: Easy to make this smoothie is so filling that it can be your  'on the go' breakfast, and it adds only 136 calories to your total intake. Blend water with ice, banana, blue berries, soy protein, flax seed oil and apple juice or honey. It is not only natural and vitamin rich, but also contains omega 3 fatty acids that are good for you.
Watermelon Smoothie: How could we leave out good old watermelon. When blended non fat yogurt or skim milk, it makes a perfect recipe for a low calorie drink.
Banilla Smoothie: A combination of skim milk, vanilla, almond extract (optional), bananas, and flavoured with cinnamon, these smoothies would be loved by all and contain less than 175 calories.
Blueberry-Orange Whirl Smoothie: It tastes as exotic as it sounds and adds only 175 calories to your calorie intake. Blend unthawed blueberries, frozen low calorie yoghurt, orange juice, skim milk, and vanilla extract to make it.
Very Berry Smoothie : Who doesn't like berries? Here is a smoothie with an exotic mix of a variety of berries of your choice blended with skim milk and orange juice which gives you around 175 calories.
Exotic Parfait Smoothie: Mangoes, berries, pineapple yogurt, skim milk, ice, and a quick minute is all that it takes to make this beverage.
Mocha Madness Parfait: Chocolate lover's here is a drink to satisfy your taste buds. All you need is low-fat vanilla frozen yogurt, cocoa powder and lots of ice, in your hand is a perfect 180 calorie smoothie.
Tips to Make Your Very Own Low Calorie Smoothie
Always use low fat ingredients like low fat yogurt, skim milk, etc.
Replace sugar with artificial sweeteners like sucrolose
Make smoothies with fresh seasonal fruits, they not only cut down the amount of sugar used, but also make the drink more refreshing, filling, and rich in vitamins and minerals.
Portion it correctly and use lots of ice
To make a smoothie protein rich use natural ingredients like skim milk, soy milk or synthetic products like whey proteins
Try out these out of this amazing low calorie smoothie recipe combining the goodness of fruits and whey protein.
Image Credits: thedaily400.wordpress.com, vegvsvegetarian.info
Top 10 Low Calorie Smoothies