What To Serve With Potato Soup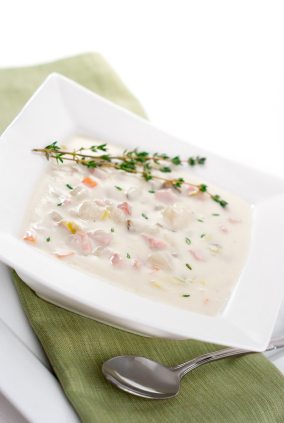 A potato soup is a warm, hearty meal, rich with the flavors of autumn in it. However if you are confused with what to serve with potato soup for a tastier and complete meal, then you are at the right place. We all love to munch on crackers or crispies while relishing the soup. Or, it may be just a seasoning of few fresh herbs. Nevertheless, there are more things that could make your potato soup meal even more interesting. Put an end to your curiosity about what to serve with potato soup with this blog.



Quick Ideas On What To Serve With Potato Soup



Richie Rich, Creamy, & Crunchy Accompaniments For Potato Soup

Add crunchiness to your potato soup with an assorted helping of crackers, spicy nuts, or crispy, golden potato wedges. Deep-fried crunchy nuggets, delicious Indian onion-stuffed samosas, oven-fried chicken legs, grilled cheese, deep-fried cheese cubes or sticks, etc are mouthwatering delicacies that can be enjoyed with potato soup.

Add a dash of Italian seasoning to invigorate your senses. If you wish for a Chinese indulgence, then a little soy sauce along with a sprinkle of MSG would be great. Make your senses come alive with a hot bowl of potato soup garnished with fresh sprigs of mint, cilantros, or basil.

Entrees

Potato soup is indeed a complete meal on its own. However, while treating your friends to a potato soup meal, you ought to mesmerize their taste buds with some delightful entrees as well. A cold chicken salad croissant, or a roasted leg of chicken, a cold turkey sandwich, beef roast sandwich, a salad pumped up with lots of veggies – these are just few of the ideas. Serve a few slices of warm rosemary potato bread spread with butter and garnished with fresh mint for a minty addition. Baby lettuce salad with sliced pears, cheese, candied walnuts, and Champagne Vinaigrette is yet another wonderful dish that can be served with a hot bowl of potato soup.

A simple onion and tomato-topped bruschetta, crusty bread with assorted toppings, quiches, frittatas, pannini sandwiches – nice and crispy, these sides add and enrich the taste and flavor of potato soup. A fruit salad or a Caesar salad would make a wonderful entrée for a light brunch or a simple, hearty dinner.





Beverages

Think about the various wines that can be paired with potato soup, Sauvignon Blanc, fruit, full-bodied Chardonnay NW, Chenin Blanc, and Zuppa Toscana top the list. Hermitage, Bordeaux, Bergerac, Cabernet, Chablis, and Pinot Noir also are great drinks to be enjoyed with potato soup.



Desserts

Parties remain unfinished without desserts. So, look at some delicious desserts that you can serve with potato soup. The Pumpkin Cheesecake tops the list. A very light cheesecake, this is a perfect companion for a hearty soup like potato soup. Trifles made with fruit cookies topped with ice cream or some homemade ice cream sandwiches go well with a richer potato soup. Vanilla sticks, fruit pie with ice cream, cobbler and cream, and fruit tarts are also great dessert options.

Stop hovering on what to serve with potato soup and start experimenting.

Image Credit: ifood.tv