What To Serve With Onion Soup

26 Aug 2011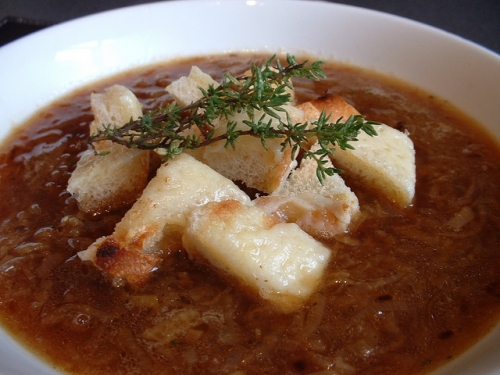 What to serve with onion soup is something which may have left you puzzled some time or the other. Onion soup will be quite filling itself and hence, it is advisable to keep the accompaniments light. Traditionally, most people serve this marvelous onion soup as a complete meal during lunch, or dinner, with lots of salad and crusty French bread. You can keep the tradition or give it an interesting twist by serving below mentioned accompaniments with Onion soup.
What Can You Serve With Onion Soup
Serve With Little Of This, A Little of That
Onion soup tastes delicious when paired with Swiss cheese, preferably Gruyere or Emmentaler or both. Put the slice of toasted bread in the bottom of the bowl and top it with grated cheese and then pour the hot soup over it. Parmesan cheese is a good substitute for Swiss cheese.
Keep assorted herbs beside the soup so that your guests can choose the herbs of their choice. Thyme, rosemary, basil, and cilantro pair perfectly with a hot cup of Onion soup. Pita chips, crispy almonds, French fries, chicken nuggets, and Masala Peanuts taste great. A few toasted croustades, deep-fried bread cubes, or golden brown onions also enhance the flavor.
Entrees
Onion soups taste marvelous when relished with a wide assortment of salad. An raddicho-endive salad with Italian dressing topped with prosciutto slices is a great accompaniment to this creamy soup. Try an interesting combo of romaine hearts with thin raw red onion slices tossed in a ranch dressing, garnished with herring fillets, and roasted pumpkin seeds for a crunchier meal.
You can keep the entrée refreshingly simple with a green salad, maybe a spinach salad or a light mixed fruit salad with berries, watermelon, pineapple, etc. Chicken or turkey sandwiches are delicious accompaniments for onion soup.
Beverages
For Onion Soup, give a French Beaujolais or Beaujolais Nouveau a try. You can even opt for a White Burgundy. For a non-alcoholic version, try serving a cranberry cooler or homemade lemonade, preferably thoroughly chilled. Any fizzy drink will also go well with this soup.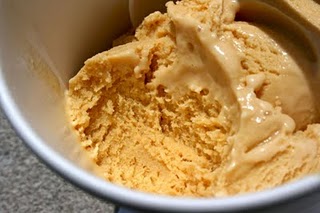 Desserts
For dessert, try to serve something with apples such as apple crisp or a Dutch apple pie. Vanilla or caramel ice cream with few fresh fruits also forms an excellent dessert.
It is now time you stop fretting about what to serve with onion soup and start acting!
Image Credit: ifood.tv, eurasiandoll.blogspot.com
What To Serve With Onion Soup