Cauliflower Dressing
22 Jul 2011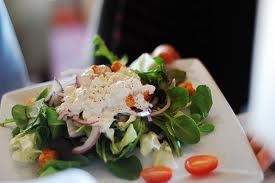 Need a new cauliflower dressing to jazz up your dinner tonight? We bring you a whole slew of exotic, delectable, mind-blowing, and easy-to-whip-up cauliflower dressings that is sure to bowl you over completely. All you need to do is dress up your cauliflower with tantalizing dressings, and you will have a gourmet delight good enough to give Gordon Ramsay a light heartburn. To know more on how to dress cauliflower, read on.
Top 10 Cauliflower Dressing
If you thought that homemade, vegetable dressings aren't as delicious as store-bought ones, then creamy cauliflower dressing is likely to change your opinion for good. This dressing goes well with cucumber, lettuce, or spinach salad, and can be stored for weeks.
This coveted cauliflower-dressing packs in oodles of flavor and taste, and makes for perfect accompaniment with corned beef, ham, or even potatoes, for that matter. Serve chilled for better taste.
Creamy, tangy, and fat-free, yogurt dressing goes well with cauliflower any day. However, for added zing, don't forget to add in large pinches of flavorful herbs.
Cauliflower Salad Ranch Dressing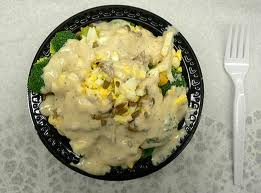 Break cauliflower into flowerets, toss them in a large bowl, add dollops of mayo, sour cream, salad dressing, and ranch dressing mix to stir in a delectable bowl of finger-licking salad.
Add a dash of zing to your cauliflower with this extremely nutritious, protein-based dressing. Just whisk in together olive oil, chives, tarragon, basil, soy sauce, and some vinegar, drizzle it over cauliflower, toss and devour.
Cilantro dressing does wonder to mildly flavored cauliflowers, pumping up its flavor largely. The flavor of freshly chopped cilantro merged with garlic, white wine vinegars, Serrano chile, and olive oil gives this dressing its unique bite.
Raisin Almond Dressing
This exotic dressing dressed up with dry fruits like raisins and almonds and tempered with mustard and cumin give a perfect kick to poached cauliflowers. A must-try dish!
Lemony Tahini Dressing
This tangy dressing is ever foodie's ultimate delight and can be best relished with poached fish, green beans, salad, or can be used as a sandwich spread.
Take loads of cauliflower, toss in loads of anchovies, rosemary, and a generous drizzle of limejuice, toss, and relish.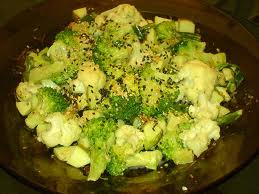 Get over pastas and pizzas and brush up your Italian culinary skills with these awesome Italian dressing. Prepared with water, oil, vinegar, crushed peppers, herbs and spices, this cauliflower dressing is all about flavor.
If you haven't been yet blown off by the amazing cauliflower dressings mentioned above, then you truly need to go and try them in your kitchen to get totally bowled over.
Image Credits: ifood.tv, smittenkitchen.com
Cauliflower Dressing