Tomatillo Dressing
22 Jul 2011
Wish to whip up the magic of Mexican cuisine right within your kitchen but don't know how? Well, you can always start off with something simple yet sumptuous as tomatillo dressing. Tangy, tart tomatillos that are a staple in almost all Mexican cuisines, make for  a dainty addition to your salads and can be easily rustled up with a handful of ingredients. Get going with this awesome write-up that teaches you how to make tomatillo dressing in a jiffy.
Top 10 Tomatillo Dressing
If just the thought of tangy tomatillos blended into creamy mayonnaise and spiked with a dash of lime juice and chopped cilantro gets you drooling, then this creamy tomatillo dressing could get you coming back for more again and again.
Cilantro Tomatillo Dressing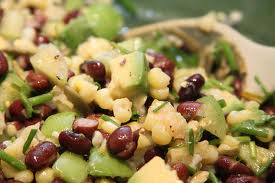 If you totally dig for authentic Mexican dressing, then the sensational cilantro tomatillo dressing could just leave you with what you want. Just whisk in tomatillos, jalapenos, yogurt, buttermilk, and sugar create this gourmet delight.
This easy-to-whip-up tomatillo dressing could be your ultimate standby when you are in a rush. This flavorful Mexican dressing can be whipped by using loads and loads of scooped avocado, pre-made tomatillo salsa, mayonnaise, and lime juice.
This tomatillo yogurt dressing tossed in crispy tortillas is worth every bite and totally scores high with Mexican food lovers. Creamy yogurt blended to perfection with tomatillos, cilantro, and cheese gives this dressing its unique kick.
If you are in a mood for some serious Mexican food gorging, then lime-cilantro dressing can leave your appetite fairly satiated. Lime and cilantro mixed with tomatillo salsa makes this dish a win-win dressing.
Roasted Tomatillo Dressing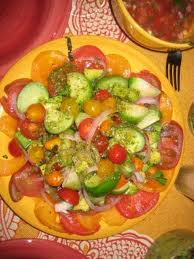 This great summer dressing incorporates tomatillos, onions, cilantro, ground cumin, pepper, and low-fat sour cream. A Tex-Mex fiesta for sure!
Tomatillo Avocado Salad
Nothing is more heartening than whomping up an easy-to-prepare homemade dressing that not only peps up your taste buds, but also leaves your health on a high. Just grab a few garden fresh avocados and tomatillos and ole! there you have a dressing to die for.
Tomatillo Cheese Dressing
You can make totally chef-worthy salad with this lip-smacking tomatillo cheese dressing that adds a bust of cheesy, tangy freshness to your snacks.
Mayo, sour cream, cilantro, lime, jalapenos, and tomatillos adds tropical flavors to your Mexican meals. A must-try!
This low-carb, low-cal dressing makes for a perfect addition to your Mexican fare. Whisk in buttermilk ranch dressing, mayo, cilantro, limejuice, and Tabasco sauce to create a sinfully delectable dressing.
Tomatillo Lime Dressing
Tomatillo lime dressing is the best way to balance out the spicy Mexican fare. Really tangy, really tasty, this one is indeed an awesome dressing to go for.
Tomatillo dressings are indeed the best way to satiate your craving for Mexican delights. Just a little ingenuity and loads of tomatillos and you can cook up a delectable dressing that would fetch you million praises.
Image Credits: postcity.com, 5footkitchen.com, footmuses.wordpress.com, ifood.tv
Tomatillo Dressing