If hugs were food...they would be Bread Pudding
12 Jul 2011
IF HUGS WERE A FOOD, THEY WOULD BE BREAD PUDDING....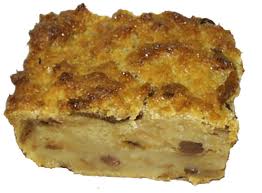 I don't know if it's the weather or my just obvious lack of luck but I need a hug! And seeing how I  am lacking in the love department at this moment...I think a nice warm Rum- Bread pudding will definitely do the trick!
So lets start off with THE BARGAIN OF THE CENTURY!!!...Stop and Shop, every Friday,.fresh out of the oven , still warm,Italian bread..the whole loaf (lol) for only 99cents!!!! So needless to say you will be seeing allot more recipes with Italian bread on Fridays! If you have read my earlier blogs you are more than aware of my long standing love affair with bread. I think that if you are having a crappy week and maybe had a dream or two crushed  and you are inclined to fill an empty void by eating your feelings nothing does the trick better than bread ...in any form. But if you are feeling especially vulnerable, then it only makes sense to add lots of butter and sugar and then top it all off with some rum...readers heres a hug.
Hold me Rum Bread Pudding

1 loaf Italian bread torn into pieces           1 cup diced bananas
1 cup brown sugar                                   1/2 cup golden raisins

1 cup white sugar                                     3 eggs

3 1/2 cups milk                                               3 tbsp butter

1/2 cup rum                                                 2tsp vanilla

1 tsp cinnamon                                           1/2tsp nutmeg
soak the bread in the milk and rum for 30 minutes. Pre heat the oven to 350. Spread butter all over the bottom of a baking dish. mix the rest of the ingredients into the bread milk and rum and then pour into dish and bake 30-35 minutes until brown...and smile!! Things will work out!:)  
RR!:
Hold me Rum Bread Pudding

1 loaf Italian bread torn into pieces           1 cup diced bananas
 thth
If Hugs Were Food...they Would Be Bread Pudding