German Food for Kids

11 Jul 2011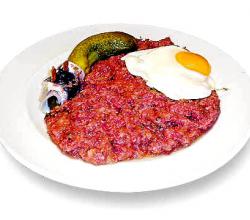 We have eaten many German dishes, but we are not aware, that the dish is indeed German. Read the following article and discover some of the best German food for kids.
German cuisine is known for offering wide variety of foods which are prepared in healthy and hearty methods. Among various ingredients used for making German food, potato is widely used to prepare German dishes. Let's take a look at German dishes which you can try making for your kids.
Spaetzle is a German dish which consists of tiny noodles or dumplings made with flour, eggs, water, or milk. The dish can be topped with butter and chives to make it tastier.
Labskaus:
Labskaus is a very popular German dish made with mashed potatoes, corned beef, and beets. This economical and simple dish can be prepared with very less ingredients. Season the dish with salt and pepper and serve it with pickles.
Frikadellen:
Frikadellens are the popular German meat dishes. They are usually made with a combination of ground beef or pork along with chopped onions, breadcrumbs, herbs, and seasonings. These little beauties are quick to make and can be served with potato and lettuce salads.
Frankfurters are the very popular hot dogs which have been named after the city of Frankfurt, Germany. The dish is exclusively made with pork and can be eaten warm with sauerkraut. Try this tasty snack item for your kid.
Rote Grütze is a perfect summer dessert made with red fruits along with sugar and cornstarch. This red fruit jelly can be served with vanilla sauce or crumbled-crackers. Making this dessert would be the lovely change from serving the usual food item.
Gaisburger marsch:
Gaisburger marsch is a traditional German stew cooked in a strong beef broth. You can cut the meat into cubes and cook them on low heat. Season the dish with chopped onions and parsley. This dish would be a great addition for your dining table.
Discover the taste of German cuisines by trying the above-mentioned German food for kids. I am sure your kid will develop a passion for the country and its food.
Image credits: ifood.tv   
German Food For Kids