Ancient Greek Food for Kids

8 Jul 2011
Ancient Greek cuisine is one that dates back to thousand years. The cuisine is so varied that when planning menu out of Ancient Greek food for kids you will be spoiled with choice.

 
Typical ancient Greek cooking generally includes bread, olives, olive oil, figs and local organic cheese. The people of Greece keep goats for producing cheese and milk. They also grow wheat to make bread. Fish and seafood are very popular items.

 
Let's check out some of the most exciting and scrumptious ancient Greek food for kids.

 
List of Ancient Greek food for kids:

 
Chicken souvlaki is a famous ancient Greek dish which is usually made with meats such as beef, chicken and fish. For making the chicken tender and soft, you can marinate the cubes of chicken in lemon juice, garlic, olive oil and oregano before you start grilling them. Try this delicious dish and enjoy with your kids.

 
Baklava is the most delicious Greek pastry which has many variations. This is undoubtedly a classic dish which is easy to prepare and is guaranteed to please. The dish is made with flaky phyllo dough which is layered with a cinnamon-spiced nut filling, and dipped in sweet syrup. It is crunchy and sweet in taste.

 
Greek pastichio is certainly the favorite dish with the kids. This classic dish makes for an excellent winter comfort meal. You can serve it with green salad dressed with vinegar and extra virgin olive oil. The dish is so tasty that the fragrance of it will make your kid's mouth to water.

 
Greek salad is the most nutritious food you can offer to your kids. You can include lot of tomatoes, cucumber, green bell peppers, onions or sliced feta cheese. Season the salad with dried oregano and salt; this will surely enhance the taste.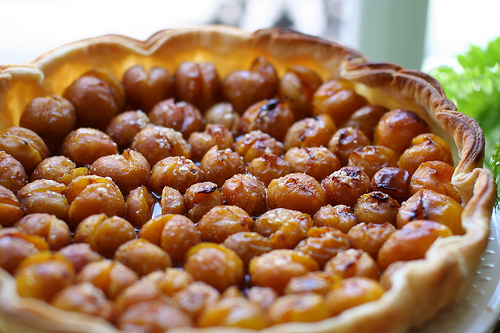 What a yummy dessert for your kids? For making the dish, you can include variety of tasty fruits along with walnuts and prunes. It is very less time consuming dish which can be prepared for any occasion.

 
Spread the authentic Greek taste by trying these Greek foods for kids. You can make slight changes to the recipe according to your kid's taste.
Image credits: ifood.tv 
Ancient Greek Food For Kids