African Food for Kids

6 Jul 2011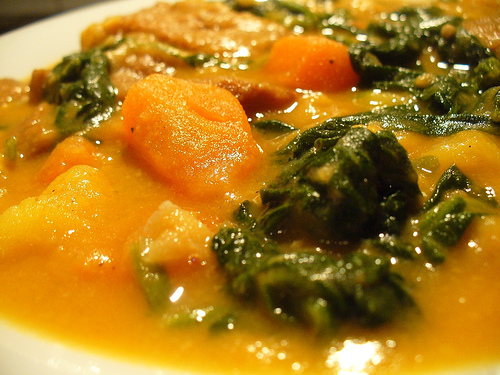 African food for kids is as diverse as the people that live there. Influenced by many countries and cultures over the centuries African cuisine is a true melting pot of diverse cooking styles. If you are looking for variety to impress your child and make him eat all those veggies and probably some liver, I am sure you won't be disappointed especially after reading this blog.
In this blog, I have shared few unique and delicious African dishes that are perfect for kids. They are elegant and glow with simplicity. Look at the following list of food and discover what your kids like to eat.
List of African food for kids:

 
African spinach stew is a highly nutritious stew consists of small onion along with tomatoes, spinach and green bell pepper.  You can use cayenne peppers and chilli peppers for seasoning the stew. The dish can be accompanied with plain rice or with porridge.

 
Sosatie is a traditional African dish made with meat cooked on skewers. You can intersperse the meat with onions, mushroom, peppers and dried apricots. You can use either beef or lamb for making sosaties depending on your kid's choice. Before serving the dish, squeeze lemon juice over the meat. This will enhance the taste.

 
African peanut soup is a very wonderful dish which can be prepared in a very less time. It is a healthy combination of tomatoes, onion, peanut butter, and brown rice. A perfect appetizer, it can be served with a dollop of sour cream on top along with some crusty bread. Because of its surprisingly different and nutritious ingredients, it can be enjoyed by your kids.
550922-orange-chicken-and-pasta-casserole.orange-chicken-and-pasta-casserole
Orange chicken and pasta casserole:

 
Orange chicken and pasta casserole is another mouth watering African dish which can be enjoyed by anybody. The dish mainly consists of chicken which is broiled or grilled and mixed with pasta mixture. Although its time taking recipe but not difficult to make.

 
Crunchies are something that Africans grow up eating. They are the most famous African crispy cookies, which you can make in your own kitchen. Yummy, the smell of bubbling golden syrup, the crunchy, chewy squares definitely makes your kid to eat many more of them.
If you have never tried making African food for kids, go for it. It is refreshing, delicious, and certainly nutritious.
Image credits: ifood.tv, dairyfreetriedandtrue.blogspot.com  
African Food For Kids