How To Clean Coconut

16 Jun 2011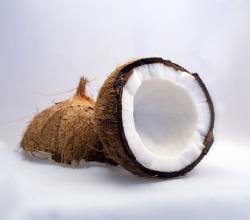 If the tough to yeild coconut has intimidated you for long, then definitely, the tips given on how to clean coconut, in this post, will prove useful for you. Cleaning coconut need not be as painstaking as made out to be. Let us see how to simplify cleaning a coconut.
Tools Required for Cleaning Coconut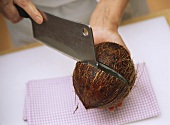 Cleaver
Sharp knife
Small dish
Steps to Clean Coconut
Clean the strands of husk present on the outside of a coconut.       
You will be able to see the three eyes of the coconut now.
Locate the soft one and clean the area around.
Using the point of the knife, dig in and open the eye.
Drain coconut water into a small dish.
Using a cleaver, break open the coconut shell right at the center.
Rinse the insides of the coconut and the edges under running water.
The white meat of coconut is now clean.
The white meat can be grated or cut out of the shell using a knife.
Tips to Clean Coconut
Take care of your fingers while cutting coconut.
Clean the edges off the dust that might have got in while cutting coconut open.
Hope that the tips outlined makes cleaning coconut much easier for you. 
Image credit: stockfood.co.th/, jamaicatravelandculture.com/ 
How To Clean Coconut