How To Clean Pomegranate

15 Jun 2011
Most of us have some time or the other, wondered as to how to clean pomegranate. Pomegranate with its red sacs of juice and seeds can seem to be confusing to clean. Let us see how to make this daunting task simpler.
Things Required for Cleaning Pomegranate
Sharp knife
Cutting board
Large bowl
Colander  or strainer
Kitchen towels
Steps to Clean Pomegranate
Place pomegranate on cutting board. Using a sharp knife cut the top off to expose the seeds and juice sacs.
Cut the pomegranate into wedges.
Place the wedges in a large bowl filled with fresh, cool water.
Gently, begin to remove the seeds and juice sacs from the white pith while in the bowl of water. The white pith would float in the water. Remove and discard white pith.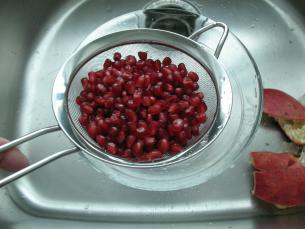 Pour the water containing juice sacs and seeds into a colander or strainer. Rinse with fresh water.
Spread seeds and juice sacs on kitchen towel to dry.
Tips to Clean Pomegranate
Wash hands well after cleaning pomegranate since pomegranate juice stains quickly.
Once you learn how to clean pomegranate, use this delicious and highly nutritious fruit in salads and other recipes.
Image credit: startcooking.com/ 
How To Clean Pomegranate