How To Clean Clam

13 Jun 2011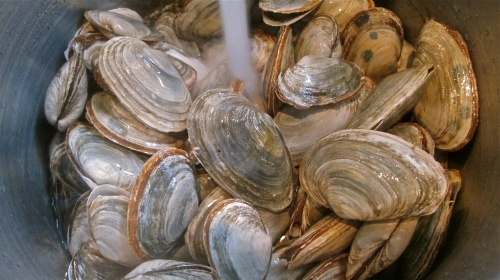 Clams are among the easiest shellfish to clean. Outlined below are the steps on how to clean clams easily. 
Tools Required For cleaning Clam
Tub

Fresh Water

Scrubber
​
Steps to Clean Clam                        
Buy fresh clams. Take care to choose the ones that are not broken or open.
Take a medium sized container and fill it with fresh water.
Put the clams in the water and let soak for 20 minutes.
The soaking will help the clams get rid of the sand and grit. Adding some cornmeal can further enhance the cleaning process.
Take the clams out of the water and scrub them clean under fresh water to get rid of other debris, barnacles etc that are present outside the shells.
The clams are now clean and reasy to be served or cooked. Once you learn how to clean clams at home, you can enjoy this seafood more frequently at home too!
Image credit: coos-bay.net/, yummy-books.com/ 
How To Clean Clam